Enthralled with tempera paint, August 1, 1952. Photo by Paul Kaufman MD
Born May 14, 1949 in Hollywood, California, to sculptor Verna Lebow, MFA, and surgeon Paul Kaufman, MD, Alicia grew up in a bi-lingual, intellectual, artistic, musical and politically active household.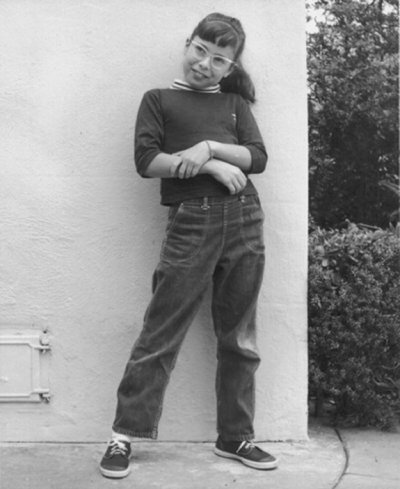 Almost 10. March, 1959. Photo by Paul Kaufman MD
A passionate follower of her muse since early childhood, Alicia was influenced and acknowledged by three major figures in art, music and literature by her mid-teens. Her multi-instrumental music studies lead her to learn open-tuned guitar improvisation from John Fahey, then married to Alicia's cousin Janet Lebow. A summer scholarship to Otis Art Institute enabled Alicia to study with Charles White III in 1965. While working as a graphic layout artist at the infamous Los Angeles Free Press in 1966, Alicia submitted a piece of writing that Joan Didion selected as the quintessential example of alternative press writing for an article titled "Alicia and the Underground Press" in her Points West column in the Saturday Evening Post.

At seventeen, after six weeks at San Francisco State College, Alicia began a productive career as a free-lance artist/writer/musician. She sang and played guitar at coffee houses in the Bay Area, wrote songs, drew reams of line drawings, worked occasionally as a cook, and attended a semester at San Francisco Fashion Institute (long enough to learn pattern drafting). In 1967 she moved to the houseboats off Sausalito where she adopted collage artist Jean Varda as a mentor. At eighteen, she worked out of her own art studio in the Industrial Center Building in Sausalito.
Easter at Wheeler Ranch, 1970 (photo by Sylvia Clarke Hamilton). The instrument is a Fender electric bass neck on a 12 string guitar.

At nineteen Alicia moved to the Wheeler Ranch Commune in Sonoma County, California and began writing, illustrating and designing Living On The Earth, a handwritten guide to bohemian country living illustrated with line drawings, initially as an informational pamphlet for fellow commune dwellers. Published in 1970 by The Bookworks in Berkeley, the book sold out its first edition of 10,000 copies in two weeks. Bennett Cerf, then president of Random House, purchased the rights to publish it for Random House.

The 1971 Random House Vintage Books edition sold over 350,000 copies, appearing on the New York Times Bestseller List. It was favorably reviewed in Time, New York Times Review of Books, Publishers Weekly, the Whole Earth Catalog, Library Journal, Christian Science Monitor, Look, and dozens of other publications, and Alicia was recognized as a Woman of the Year in 1971 by Mademoiselle Magazine.

Over the next three years she created seven other illustrated books, four of which, plus Living On The Earth, were published by Soshisha, Ltd. in Japan. . (Living on the Earth has remained in print in Japanese for 30 years.) In 1974, Alicia went on a book tour to Japan, stopped on the way back in Maui, and decided to stay.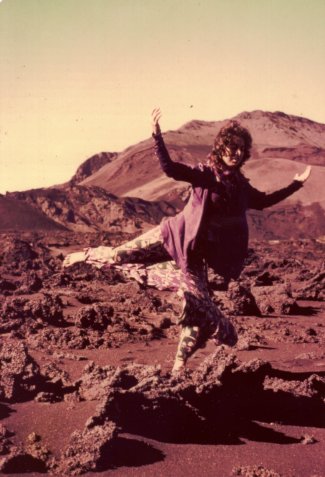 Alicia dancing in Haleakala volcano, Maui, 1976.
Photo by artist Andrew Annenberg

Over her long residence in Maui, Alicia studied Hawaiian music, worked as an underwater photographer, taught yoga, performed extensively as a vocalist/guitarist, had several one-woman art shows, taught art, music, writing and dance at two alternative schools, and illustrated books. Over eleven years she produced 3000 weddings as the owner of a legendary Maui wedding company. In 1999 she sold the company, produced a CD of her original folk songs, Music From Living on the Earth, and toured the USA for eight months as a storyteller/singer. Following the tour, she produced a second CD of original and historic Hawaiian songs, Living in Hawaii Style, toured in Hawaii and California, and headlined in the Big Island Slack Key Guitar Festival. Her next CD, What Living's All About, will be original jazz and blues songs.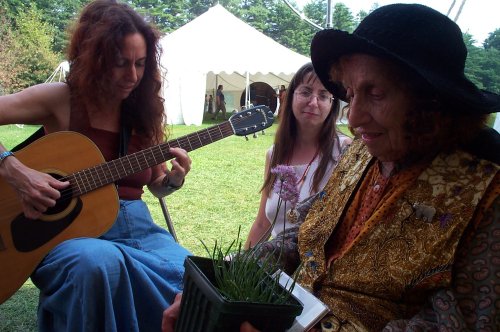 Alicia serenades legendary herbalist Juliette de Bairacli-Levy at the New England Womens Herbal Conference, August, 2000.
She is currently working on two new books with Gibbs Smith, Publisher, a gift book titled How to Make Peace (50 Recipes) (April 2004), and a modern sequel to Living on the Earth, titled Still Living on the Earth: A Dictionary of Sustainable Means (April 2005). Alicia lives in the rainforest on the island of Hawaii, in a small but dazzling botanical garden.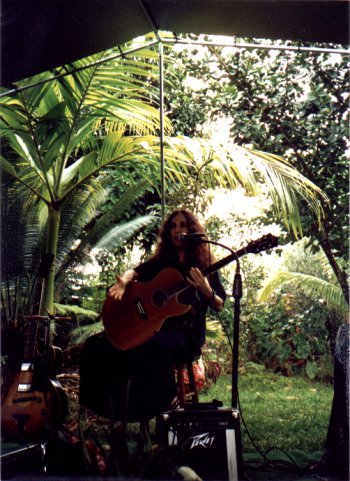 Alicia performing on the Big Island, May 2002, photographed by Ingrid Dennerlein.