My First Booksigning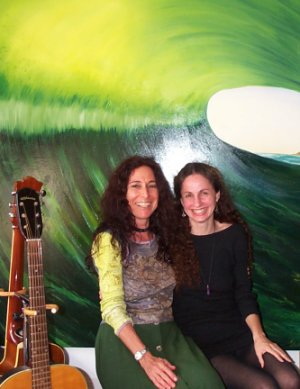 Alicia and Jodi in front of one of Todd Cooper's wave paintings
San Diego suburb Ocean Beach is a convergence of old architecture, young artists, a long white sand beach, charming shops and superior weather. Jodi and John's California Craftsman (1887) cottage burgeons with fairy stuff--tea cups, toys, old books, very nice cats (two); every window offers a view of herbs in bloom. On the quilt- covered futon in their tiny blue guest room I sleep blissfully, then enjoy a leisurely breakfast with Jodi, shower, and put on the new clothes I have been saving for my performances.
In Jodi and John's very busy store, In Harmony Herbs and Spices, Heather, Katie, and Aricia bustle cheerfully, and upstairs, artists/musicians Scott Young and Todd Cooper prepare their studio to hold the store's booksigning party for me. Glenn and Chris arrive bearing a major feast they have prepared for the occasion. I am thrilled to be honored with all of this.
An enthusiastic crowd of twenty attended; many had owned a copy of Living On The Earth before. They loved my music and my stories, bought my book and CD, and generally let me know they loved me, too. I asked people to answer the question I had posed of my friends when I wrote the original version of the book. What do we need to know to live on the earth?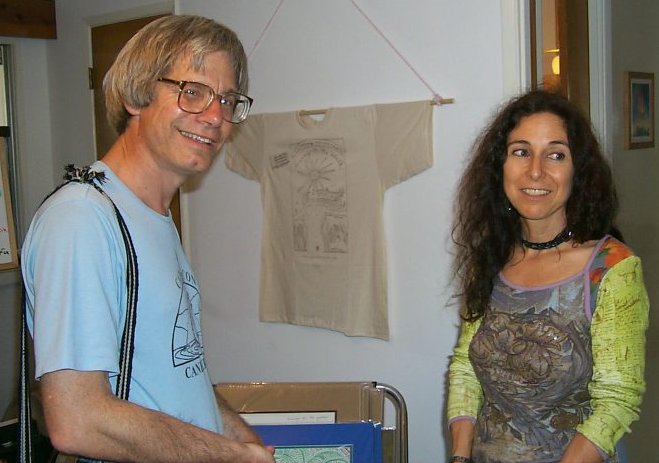 Paul Williams and I meet for the first time in nearly 30 years
The most prolific discussion was offered by my long (neary 30 years) lost friend, author Paul Williams (Das Energi, Apple Bay, Crawdaddy Magazine). While he agreed with everyone else that the destruction of the planet's air, water, topsoil, even genetic structures was "scary", he wanted to find positive solutions rather than be mired in fear. We discussed the idea of emotional closeness and openness as a resource needing to be preserved.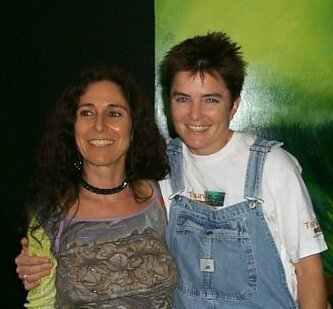 Mary Dolan's positive energy is like a halo! OK, it's the flash from the camera. She still glows.
Local music legend Mary Dolan showed up and sang some originals. I answered hers with a couple more of mine. Laughter flowed. Later, dancing, too.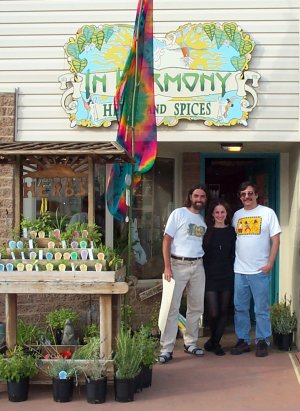 John, Jodi and Glenn in front of the store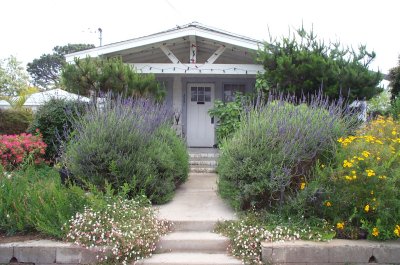 John and Jodi's 1887 California Craftsman house, surrounded by fragrant flowering herbs