Chaucer's Books in Santa Barbara
Some friendships come to life instantly with years in between visits. Artist Lily Bastug, who I met in Maui in the 'seventies, is one such friend. Tonight I am her guest. Her home, a 1920's cottage surrounded by a high hedge and richly flowering gardens, fills me with peace. The colors are soft, and everywhere floral images--on the walls, in baskets of dried hydrangea, on fabrics.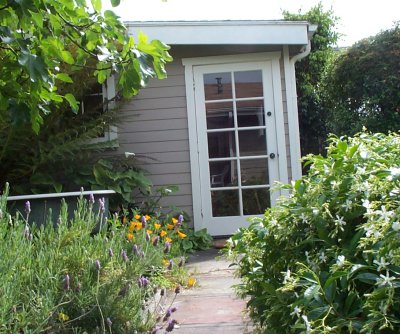 The path to Lily's guest cottage, fragrant with lavender and star jasmine
I said "So your boyfriend lives next door?" She says John lives a couple of blocks away. Each of them has an entire house inwhich to embody his or her own thoughts in material objects and events, but lives within easy walking distance of the intimate other. Love without dues.
Chaucer's Books' pleasant clutter recalls the study rooms of truly obsessed researchers. Stacks of books line the top of shelves, as if lust for information made one oblivious to all else. To me it represents a splendid abundance. Everyone I know in Santa Barbara says they have the best selection of books in the county. The aisle inwhich I sat, told stories, sang and played guitar, was lined with books of sheet music, mostly opera scores. The shelf in the next row bore a handlettered cardboard sign: Etimology. This is not your chain bookstore.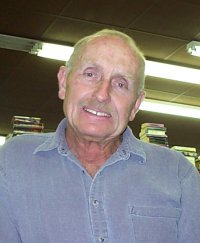 Gary
I was overwhelmed by the pure love with which I was greeted here. Three people brought their weathered original editions for me to sign. Gary, who had bought and lived on 160 acres in Humboldt County about the time the book was first published, told me that he and his wife gave my books as Christmas gifts to each of their friends in 1971. Meredith, a long lost friend from my days at Wheeler Ranch, had slipped away from a catering job her company was doing to see me at Chaucer's. She brought her old copy of The Earth Mass by Joseph Pintauro, which I illustrated in 1972. She reminded me that I gave her the shelter in which I had lived at the ranch when I left. Big hugs.
That's Jaclyn in front. I didn't get her friend's name on the left, but next are Celeste, Robin and Meredith.
Delia Moon, a sister in the arts and the owner of two communes near Wheeler Ranch, had delivered a vase of dendrobium orchids, caspia and fern with a note that she was on her way north the day before the reading, but was sending friends to Chaucer's and she would see me in Sebastopol in June. I knew without introduction who among those present were her friends were by their radiant smiles. Robin,Celeste and Jaclyn knew and loved the book; Celeste said it changed her life.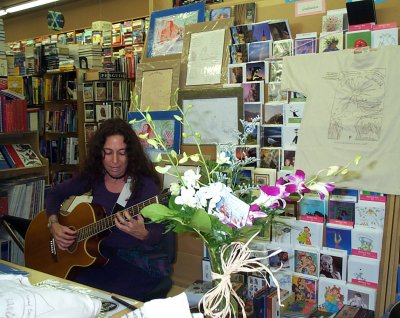 Delia's gift, and me, serenading