Coalesce Bookstore and The Novel Experience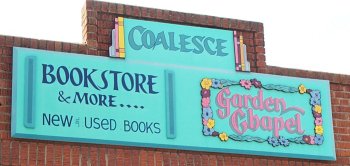 On my way from San Luis Obispo to Morro Bay and Coalesce Bookstore and Chapel, I drove past the Seven Sisters, a series of unique isolated coastal mountains, each with its own myths, according to Linna, the charming owner of Coalesce.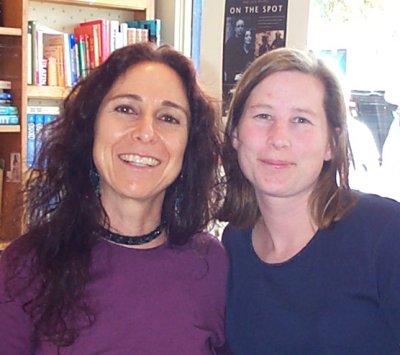 I meet Gillian
There I met Gillian, whose father, Steve, gave her original editions of Living On The Earth and Being Of The Sun, which she brought for me to sign, as well as his own copy of Being Of The Sun to sign for him.
Vicki, Jerry, and his son Jamal
A long lost friend from Maui, Vicki Hutchison, showed up with her partner, physical therapist Jerry Whitaker; together they run a massage therapy business called Stress Busters. Vicki offered me a chair massage and I offered her a t-shirt. We both were pleased.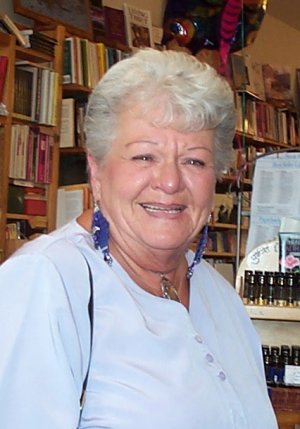 A delightful woman who identified herself only as Liz told me that in the 'seventies she had cooked every recipe in Living On The Earth, including a batch of Stony Butter, the Alice B. Toklas inspired recipe, which she had spent hours preparing for her adult progeny one snowy night.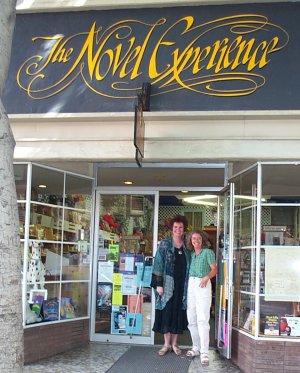 Christine Hill and her assistant Lorelei
The Novel Experience in San Luis Obispo, owned and run by great-spirited second generation bookstore owner Christine Hill, offers shelves of fascinating books, often with handwritten recommendations attached to the shelves. Radio personality and artist Lady Tie-Di brought me a copy of her 1998 almanac, inspired by Living On The Earth, which she signed for me.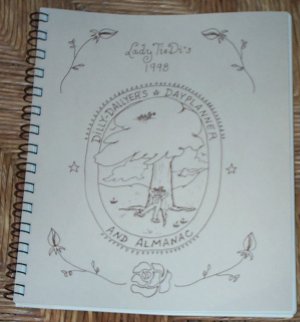 Nurse-practicioner Michele Day-Brooks, my hostess in San Luis Obispo, arrived with her partner Bob Goldman and her mother, Dr. Marti Day. Michele's grandmother and my grandmother were best friends, and Marti had lived at the house where I grew up before I was born while attending UCLA. She brought home the stray kitten that grew up to become a personage of my earliest memories. I recall lying as an infant in a screen-covered baby bed in the shade of the patio, looking up at the sky, when, suddenly, a big fluffy gray cat landed on the screen a foot above my head. I was not afraid. It was Smokey, and I adored him.
Bob Goldman, Michele Day-Brooks, Lady Tie-Di, and Marti Day