Driving Up To Big Sur
I could not resist taking a few more photographs of the San Luis Obispo area before I headed north, particulary of those seven huge outcroppings along the coast, known locally as the Seven Sisters. California posed for me like a pin-up girl.
The seventh sister, Morro Rock, dwarfs fishing boats at Morro Bay
I could not resist a good-bye to Linna, a stalwart of excellent vibrations and the owner of Coalesce Books and Wedding Chapel in Morro Bay. Here she stands in her wedding garden, complete with statue of Kwan Yin.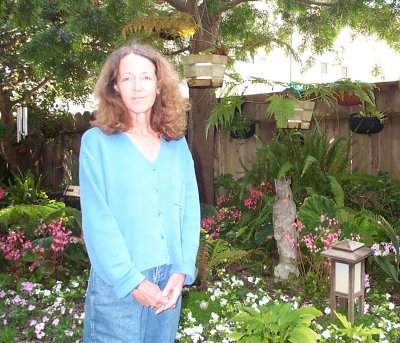 I laughed and sang the whole way to Big Sur, revelling in the beauty surrounding me. Just north of San Simeon, rolling hills and beaches come to an abrupt halt where the Pacific tectonic plate thrusts into the North American plate, causing vertical cliffs to jut out of the sea. Big Sur is not really part of North America; it is really part of the ocean floor. I read this in National Geographic.
In Maui, I often told visitors that the drive to Hana is like the drive through Big Sur, only it's rainforest. It's true. Both roads often close due to rock slides, and the curves are not for the faint of stomach. I lived three years in Hana, and in my first seventeen years surrounded by the California chapparal, so I felt right at home.
When I turned off Highway One into the driveway of Esalen Institute, I knew I'd arrived Someplace Else. Esalen looks like my fantasy of a perfect world, although it is also a not for profit corporation with an administrative staff going through the usual business headaches. The buildings are named for heroes of the consciousness raising movement, including Aldous Huxley, Fritz Perls, Alan Watts, Abraham Maslow and Ida Rolf. My quarters are glorious--a wooden yurt in the woods, utterly serene and comfortable with a view of the sea, in an area they call New Yurt City.
The Leader's Yurt, neighbor to my lodging, the Artist's Yurt
Thirty cheerful denizens of Esalen gathered in Huxley Hall to hear me speak and sing, including Warren, keeper of the gate, who, upon my arrival at Esalen told me he had a copy of the original edition of my book. What a great audience. People come into this environment and open to love; they poured it on me and I shined it back all over them.
That's John on the left and Warren on the right in the front row.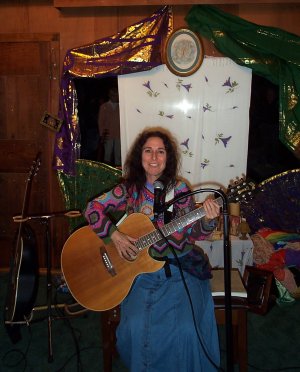 That's an eclectic altar of sorts in back of me.
After the booksigning, I joined a lively group in the lodge dining hall celebrating the birthday of a lovely lady named Maureen, who confessed that her dream was to learn the hula from an old woman in Hawaii, and, to honor the occasion, I played four hulas for her. Afterwards we all adjourned to Esalen's famous hot springs baths on a cliff overlooking the ocean, where, with bright half moon shining on tub and sea, I experienced an epiphany of shimmering grace. This is business as usual at Esalen.