Celebrating A Day Early
The day before my fifty-first birthday I devoted to pure pleasure. I began with a walk in the redwoods of Pfeiffer-Big Sur State Park with Lani Harriman, a friend for thirty-three of those years, and a hiking partner many times during those years. Lani and I met in 1967 at Gate Five, Sausalito, where she lived with Joe Tate, a rocker from the New Salvation Army Band. In 1974, we moved into the same communal household outside Hana, Maui. We have visited and been neighbors many times since then.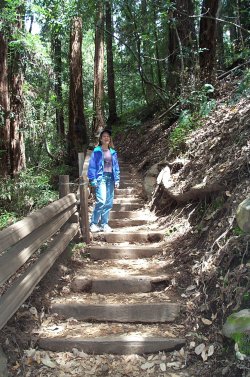 Lani and I ascend to Pfeiffer Falls
The waterfalls in the redwoods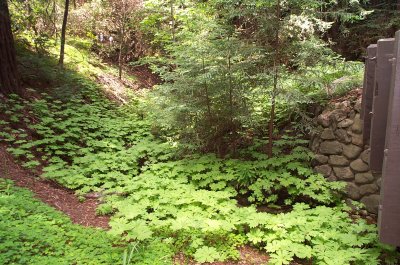 A stream bed suppports a swath of wild rubarb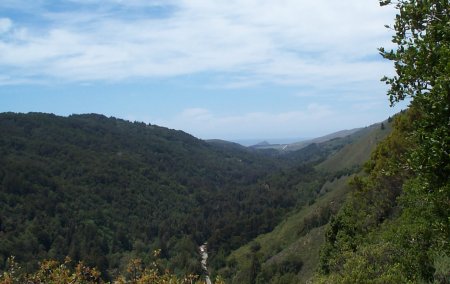 The view from the ridge top of Big Sur Valley with Point Sur and the ocean in the distance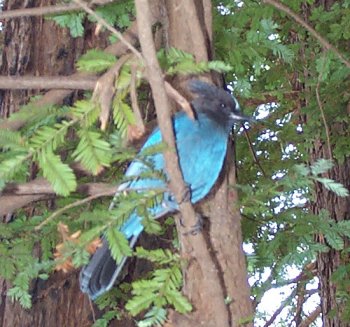 I wish I could convey the sounds and fragrances of the redwood forest, or the feeling of rhythmic feet upon the earth
I just know that not all cathedrals are human-made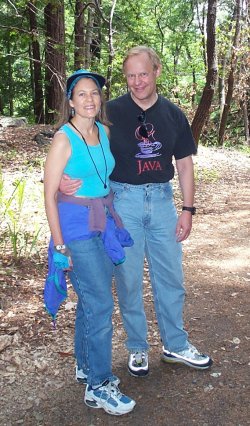 Eventually Alan joined us for the walk. These two are real sweethearts, not only to each other.
For my birthday, they treated me to a weekend's stay at Big Sur Lodge with dinner at Nepenthe both nights.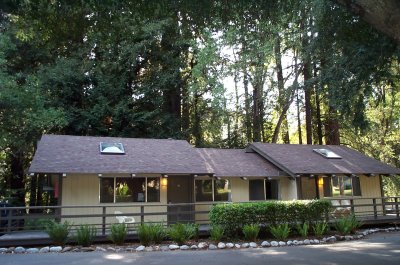 We stayed in the two bedroom unit on the left.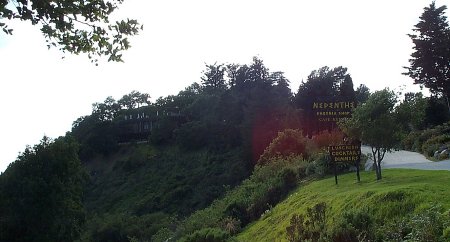 Nepenthe, founded in 1949, the year of my birth, has a Beat ambiance and magnificent views of mountains and seacoast.
At the terrace entrance stands a sculpture of a phoenix; behind is the patio once famous for evenings of folk dancing.
The redwood and adobe structure of unexpected angles and curves is, itself, an interesting abstract sculpture
which, at night, is lit up with strings of red bulbs.
The back deck has the best views of the sea; a crowd gathered there at sunset.
Puffing out a candle on a slice of tart blackberry pie ushers in my new year.
Feels like it's going to be a good one, too.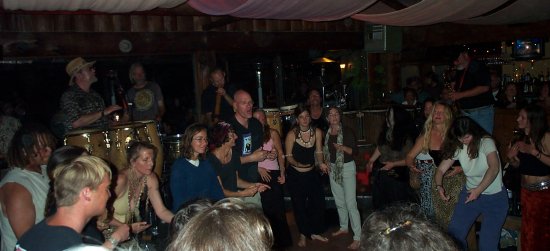 Rudy and Danna, new friends from the Henry Miller Library booksigning, invited me to come along to the Mothers' Day Dance at the Big Sur River Inn, with music by the Big Sur Natives, a percussion sextet, with members doubling on saxophone, keyboard, vocals or digiridoo. Over one hundred Big Sur residents of all ages swirled and whooped with abandon to the meandering improvisations for two and a half hours, while another hundred celebrants watched and cheered. I threw myself into dancing, something that always makes me ecstatic. At the end, everyone stood together and sang long tones for about ten minutes, followed by more wild cheering and clapping. Boho culture is alive and well. St. Anais would be pleased.