Gateways Books in Santa Cruz
Maybe it was the full moon in Scorpio with the sun in Taurus, which tradition holds to be Buddha's birthday. I had the best time in Santa Cruz.
I had a feeling I would. Last February, when I was calling to set up an event in Santa Cruz, all three of the stores I contacted, Bookstore Santa Cruz, Cafe Book Shop, and Gateways Books all expressed interest, but, at Gateways, the first phone call reply was "Of course. What day?" Then Allison, the buyer for the store got on the phone and told me that, back in the 'seventies, she had embroidered my drawings into her bluejeans. I can't imagine a higher compliment for an artist. She even invited me to stay at her house. Allison studied avant-garde theatre at NYU and still has that Greenwich Village look with her high top sneakers. I just love her.
Allison, buyer at Gateways Books
Before the booksigning, Lani and I strolled around Santa Cruz, window-shopped and enjoyed a little lunch at the We So Bistro (recommended). My hands-down favorite store, Rhythm Fusion, fulfills any ethnic percussion player's wildest dreams.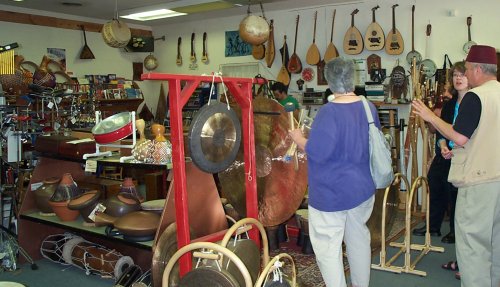 A salesman in a fez invites two ladies to play a magnificent flat gong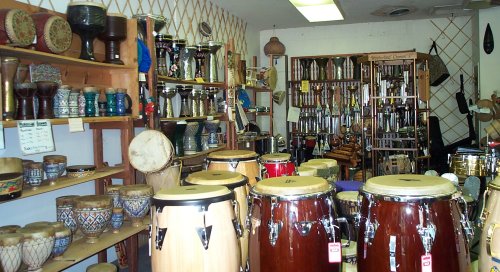 Santa Cruz must enjoy an intense musical scene to support a store like this one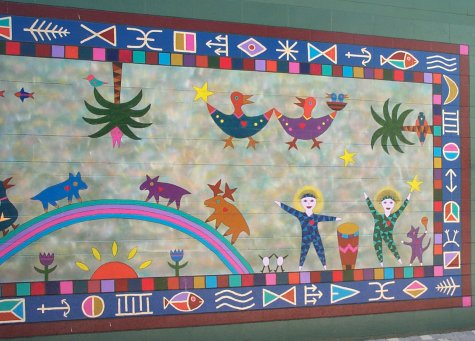 This wonderful mural, "Adventures in Paradise" by James Carl Aschbacher
and Lisa Jensen Aschbacher is just down the street from Rhythm Fusion.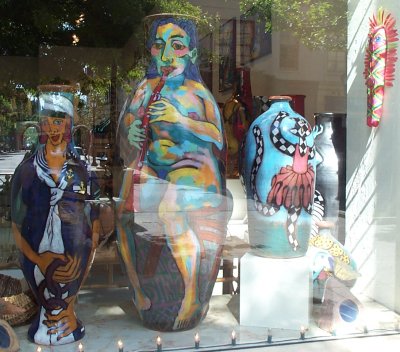 Playful ceramics in the window of Many Hands Gallery...
...and inside Wild Earth.
The streets were full of characters...
...I especially enjoyed this young lady haggling for a good deal on jewelry.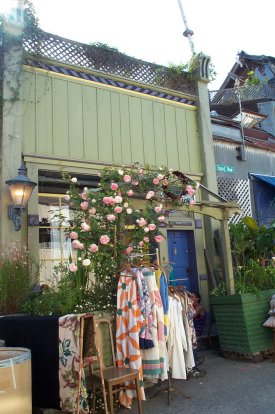 A side street called Squid Row revealed charming, funky little stores...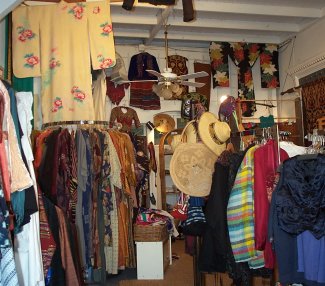 ...full of exotic costumes.
Gateways drew the biggest crowd of my tour thus far, probably fifty people, and certainly the most enthusiastic and loving audience as well. I let them have it--my best stories and songs. I told them they would be on my web site; and took their picture. Here they are: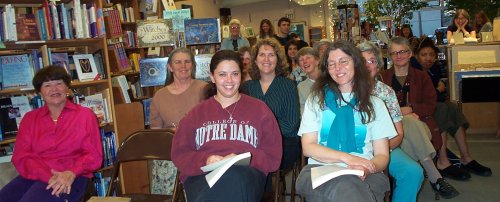 None of us wanted to leave afterward, so we sat and they showered me with love. There was a couple to whom I had offered my garden inwhich to camp when they were on Maui for the Terrance McKenna/Tom Robbins writing workshop several years ago--they brought me a gift. Allison did, too. She also said it was the best event they'd ever had at Gateways. A lovely fellow named Sam got everyone to sing Happy Birthday when I told them I'd turned 51 four days before. I signed several well-loved copies of the original Living On The Earth and one copy of Being of the Sun. We ran out of CDs. A lovely lady named Bo bought a CD for her mum in England and got our picture taken together.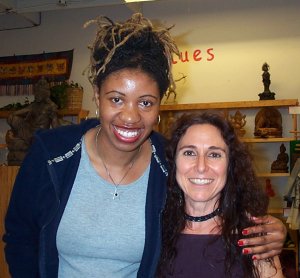 Beautiful Bo from London gives me a hug
The last person with whom I spoke was Barry Forsyth, a handwriting analyst. He was curious how I came to the decision to abandon the tradition capital letters used in cursive script. I love a question that causes me to consider my art more deeply. I realized that my drawing style evolved partly from admiring the sumie economy of line, and I economized on lettering lines as well. I had also spent three months in bed practicing Roman capital letters after I dropped out of California College of Arts and Crafts due to infectious hepatitus, just before I moved to Wheeler Ranch in 1969. Barry told me that there is field called psychographology, which holds that if you retrain yourself to write differently than you were taught, you reprogram your brain and become a different person. I guess I am.
Barry Forsyth, handwriting analyst