Environmentalism in Action
Today I traveled by Bay Area Rapid Transit (BART) from Berkeley to San Francisco. BART travels both above and underground, efficiently moving people from three greatly removed destinations of the East Bay through two separate cities on the peninsula. There are five routes, all of which traverse the tunnel under the San Francisco Bay. It is a wonder of the world, and a great environmental advancement. San Francisco's efficient public transportation system is modeled on that of major European cities. Los Angeles, by contrast, lost its electric trolley system after World War II, when Standard Oil bought it up and scrapped it in an effort to sell more gasoline. The LA subway finally opened last year, but only after major graft was exposed in its construction, delaying its completion by several years.
BART train at the Woodridge station, Oakland
The BART tracks run through the center of the freeway toward inland hills
Another example of enlightened city planning is the Ohlone Greenway in North Berkeley. A long narrow park running parallel to Hearst Street offers a quiet place to bicycle, jog, stroll, walk the dog. The sign says "Share the Path."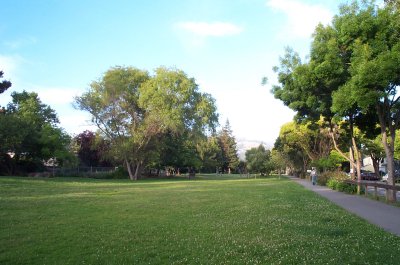 Ohlone Greenway, named for the Indian tribe that once populated the area
Today I met with two communicators who expand consciousness of the environment. The first was Harry Osibin, public affairs director of Live 105 Radio in San Francisco, and the host of the Sunday morning (7 to 8 AM) Green Hour. He interviewed me for an hour, and plans to air the show on June 4. Harry O, as he is known around the station, grew up in the city and has been with the station station since the 'eighties.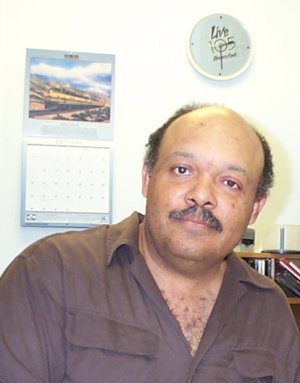 Harry O at Live 105
Later I met with Randy Larsen, who hosts and produces Eco-Talk Radio, which is carried by Pacifica Radio Network. Randy interviewed me in Bob Treuhaft's living room, and seems comfortable working out of the studio. He interviewed Julia Butterfly on site during her two year vigil in a redwood tree. He has even interviewed while hiking. He insisted that I perform live two of the songs from my CD, which I did. Randy teaches in the philosophy department at Chico State University, but he is considering a full time move to radio.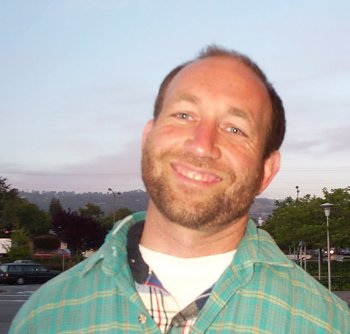 Randy personally picked me up from the BART station when I returned from San Francisco
Between the two interviews, I enjoyed a wonderful visit with my fellow second generation leftist, Dr. Paul Blanc. We met at Labor Zionist summer camp, and when, at age 16, I hopped a bus to San Francisco to march in the Spring Mobilization for Peace, I sought a night's shelter at his family's home and became an instant adoptee of Paul's mother, Esther. His parents housed and parented me during my late 'teen years, so we were like siblings for that time. Paul went on to express his social conscience as a public health professional, an MD whose expertise is in discovering and treating environmentally created illnesses. Sheer good luck allowed me to attend one of his lectures today to a group of physicians in a large hotel auditorium.
Doctors John Balmes and Paul Blanc, about to present information
on environmentally caused illnesses at a class for physicians