Cody's Books in Berkeley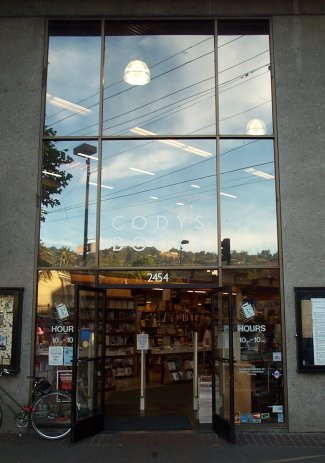 I am visiting the most famous center of late 60's student activism in the United States, maybe in the world, the University of California at Berkeley. Thirty years after those tumultuous times of Free Speech, anti-war, and civil rights demonstrations, the legend continues to attract students and other youths who continue the tradition. More significantly, Berkeley houses scores of old radicals, beatniks, and artists, who appreciate the liberal political atmosphere, non-stop cultural events, excellent dining, wide streets lined with gorgeously senior trees and houses, ecstasy-producing views of hills and the bay, and the comraderie of one another.
Cody's Books is at the corner of Haste and Telegraph Avenue, in the heart of Berkeley's student villlage square.
Telegraph Avenue ends at Sproul Hall, center stage for countless political demonstrations.
It is a vast, serious bookstore, serving a voraciously intellectual community since the 1960's.
These wonderful women, Alicia and Penny, set up and coordinated the booksigning.
Appropriately, Cody's makes audio tapes of its author lectures for the University. The walls of the upstairs lounge where these lecture take place are lined with black and white photographs of famous authors at the lecturn, the same lecturn I spurned in favor of a folding chair from which I could play my guitar, gesticulate wildly, and take pictures of my audience.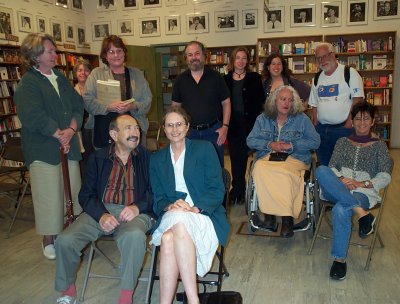 Alas, many of my audience disappeared when I tried to organize a group shot.
Not all the radicals of Berkeley appreciate having their faces on the Internet.
After the booksigning, I repaired to the wonderful old home of Melanie Mathias, where my Wheeler Ranch great girl friend, artist Sally French, was visiting from Kau'ai. We feasted on Melanie's famous chicken teriyaki and the biggest, freshest asparagus in history, courtesy of Sally's family ranch in Stockton. Melanie decorated her kitchen with Sally's whimsical paintings, and I got Sally to pose with paintings and aparagus. Alas, my flash erased one of her framed pieces!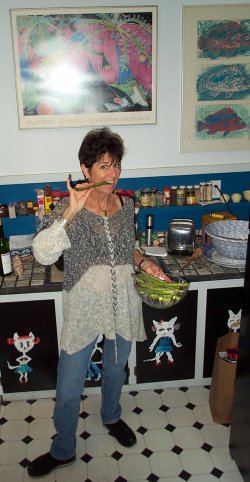 Those are Sally's dancing cats on the cupboard doors.
Melanie, permanently disabled from a back injury four years ago, turned her ill fortune into a blessing by using the modest settlement to buy a dilapedated turn-of- the-century home with an enormous wooded back yard and, from her wheelchair, clearing out the debris and remaking it into a wonderfully eccentric and comfortable nest. Now she's carrying a full course load at school, too. I met her roomies--one a high school creative writing teacher whose publication of students works, titled Shine, really does shine. (First essay: "What I Hate About Teachers"). Sally wangled one out of him to take home. The other I met only briefly and seemed to be a student at the University, of the neo-hippie Gen Y stripe. Cool.
We shared an altogether superb evening, blessed with much laughter, memories, and mutual appreciations.