Dining at Chez Panisse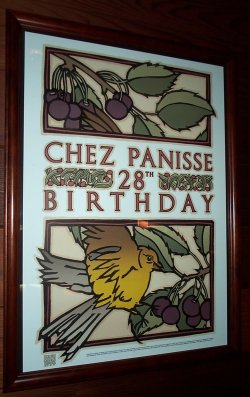 This lovely commemorative sign, created in 1999 by David Goins,
who was once a Free Speech radical in the 'sixties defended by Bob Treuhaft,
informed me that Living On The Earth and Chez Panisse are contemporaries.
Since the first organic garden I tended in the 'sixties, I marvelled at the intense tastes that were available only on the day--or, better, within minutes, of harvest. Many fruits and vegetables are unavailable in stores simply because they do not ship well. Some these delicate varieties were on the edge of extinction until the "heirloom seed" movement began forty years ago. More ominously now come the genetically engineered plants, whose fruit looks perfect and whose taste is oddly absent. When I heard about Alice Waters, the gourmet chef in Berkeley whose signature was same-day harvested and ecologically raised produce, I eagerly looked for her recipes. When I revised Living On The Earth last year, I included her cookbooks in the new appendix of recommended books (on page 221.) Naturally, when I arrived in Berkeley, I wanted to present her with a copy of my new book.
The entrance to Cafe Panisse, at 1517 Shattuck Street in north Berkeley
Cafe Panisse derives its name from a bar that was a scene in three black and white films made by Marcel Pagnol in the early1930's. Stills from the films decorate the walls, and the elegant simplicity of the place recalls the era as well. The Downstairs Chez Panisse serves a single menu that changes daily; reservations thirty days in advance are suggested. The Upstairs Cafe Panisse takes same-day reservations only. Bob Treuhaft offered to treat me to a dinner in either venue; I called and requested a place on the waiting list, and, by a miracle, that, no doubt, included Bob's long friendship with Alice Waters, we got reservations for the Downstairs second seating. I packed my camera and a signed copy of Living On The Earth, and off we went.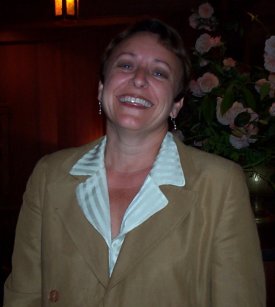 We were greeted by the maitre d', Lee Ann, who, when I explained
that I was creating a web page about the restaurant, invited me to photograph
anywhere I wished--including both kitchens and dining rooms.
I took her at her word.
The downstairs kitchen, with heaps of green-topped garlic bulbs, a basket of baguettes baked
by Alice Water's Acme Bakery, shelves of spices; everything gleamingly clean and natural looking.
On the right side of the kitchen (you can tell by the other half of the bread basket)
a chef grills lamb over hot coals in a brick fireplace.
The downstairs dining room. Everyone is having a Peak Experience.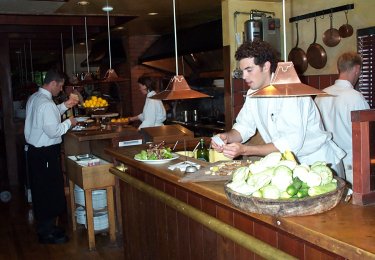 The Upstairs Cafe Chez Panisse kitchen, with a basket of squashes in the near forground.
The dining area upstairs is more casual, but similarly elegant.
Here is the May 26, 2000 menu for the Downstairs Chez Panisse:
An aperitif. This turned out to include three kinds of olives that surpassed any I've ever tasted, including in Spain, a basket with one of the chewy baguettes seen in the kitchen photos and a hunk of crusty, tender sourdough bread, a tiny crock of unsalted butter, and a tiny flute filled with a lovely, non-sweet, grapefruity-tasting bubbly drink with a little alcohol and a tiny curl of citrus peel in it.
Salad of chioggia beets, green beans and garden lettuces with smoked duck prosciutto and balsamic vinegar. A small and delicate salad, with tiny cubes of lightly steamed, cold marinated beets, slender, barely steamed, cold string beans, two thin slices of a smokey rich-tasting meat over extremely fresh baby lettuces, with an olive oil based vinaigrette.
Ricotta gnocchi with white asparagus, truffle oil, and walnuts. Another dish delicate enough for fairies. Eight tiny ivory-colored and buttery-tasting potato dumplings filled with ricotta cheese, with slender diagonally-sliced pieces of white aspargus, garnished with three lacey sprigs of an incredibly subtle fresh herb and a sprinkling of lightly toasted, finely chopped walnuts.
Grilled James Ranch lamb with herbs, mustard, and fried capers; ragout of peas, morels, and fava beans; crispy new potatoes. There was a faint hint of rosemary and smoke to the fork-tender lamb; the vegetables were still sweet from being recently picked and perfectly cooked; the trio of inch-diameter potatoes were indeed crispy. Each previous dish had been taste-bud euphoria, but this plate was over the top.
Mixed berry feuillete with muscat sabayon. Between two triangles of puff pastry reclined fresh, sweet strawberry slices, fresh tart blueberries, fresh raspberries, and fresh boysenberries, slathered in a sweet, creamy sauce that spilled over onto the plate. Mon Dieu!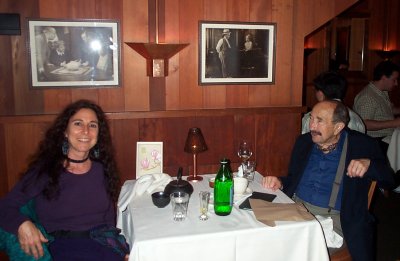 This should have been the end of the movie, but that wicked Alice Waters sent us down another dessert as a gift, a cupful of an unbelievably rich chocolate pudding, topped with a white chocolate sauce, and two small, soft, extremely chocolate cookies. This we could not finish. We sat glazed, as if on drugs. I sipped the chamomile tea that had been prepared from fresh flowers.
As if this were not enough, Alice also sent me a signed copy of her newest cookbook, Chez Panisse Cafe Cookbook. Of course, I was hoping I would also meet the great lady in person, but, alas, gentle reader, she had to run home and rescue a daughter who had locked herself out of the house.
However, on our way out of Chez Panisse, I picked up a donation envelope for the Chez Panisse Foundation, and I began to see how similar our visions really are. Here is the mission statement:
Millions of people today are unaware of how, where, and when fresh food is grown. Our hurried urban lives and our increased dependence on processed and convenience food isolate us from the land and deprive us of the joys of preparing and sharing together. Inevitably, this contributes to apathy about the future of our farms and the quality of our food supply, and a loss of values and traditions that have bound families and communities together for centuries.
The Chez Panisse Foundation seeks to reverse these trends by supporting youth and community programs that teach the vital connections between good husbandry, good cooking, and good eating. Through gardening and cooking, self-esteem blooms and respect for nature deepens; and sharing food around a common table teaches caring and tolerance. We believe such learning can transform people and communities, instilling a lifelong appreciation for season and place, the pleasures of the table, and responsible stewardship of the land.
You can contact the Chez Panisse Foundation at (510) 843-3811. Here's the link to the restaurant: www.chezpanisse.com.