Back To The Land In Santa Cruz
A hot and brilliantly sunny Memorial Day in Santa Cruz. The beaches and boardwalk, marina, streets bulge with merrymakers on foot, bike, motorcycle, boat, skateboard. The highways and mainstreets are gridlocked, restaurants jammed. I wend my way in the Peugeot to KUSP, the local Pacifica station, on a quiet sidestreet that ends on a white sand beach. I don't have a bathing suit with me, but it's OK--I'm on a mission.
Eric Schoeck at KUSP
I am warmly greeted by Eric Schoeck, who interviews authors for this station and is programming director at the college station at UCSC. He remembers the original edition. I am so eager to answer questions that I interrupt him. He plays cuts from my CD. Altogether we have a good time. On the way out, I photograph a collage above the stairway made of an old doorway and stickers from many Pacifica radio stations. My compliments to the artist.

A Pacifica Radio solidarity piece
I then drove up to the legendary University of California at Santa Cruz campus. Berkeley is famous for radical politics, but S'Cruz is the back-to-the-land campus. You can get a degree in Living On The Earth; it's called Sustainable Agronomy. Kim Cooper had a ball studying Art History here, too. Sam Scott, son of my close friend Wendy Vance, got his bachelor's in marine biology here. Ramon Sender mentioned once that his son, Sol Ray, would be studying something called The History of Consciousness. If I were seventeen now, I'd be thinking about enrolling myself.
This is the main entrance to the campus, with historic stone farm buildings in the lower left corner.
A sign on the main thoroughfare of the upper campus:
Student Services, Bay Tree Bookstore, the Redwood Building.
Thick groves of redwood and bay laurel obscure most of the buildings.
The fragrances enchant me, as do the forest paths between the buildings.
Bicycle paths and parking are everywhere.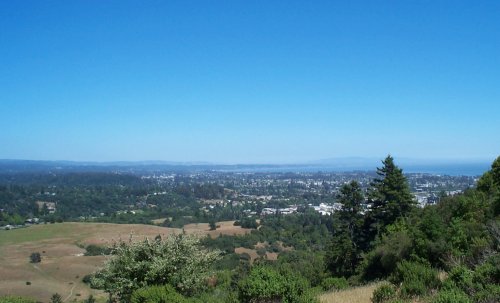 Views of Santa Cruz town, Monterey Bay and Monterey Peninsula from UCSC
Entrance to Sustainable Agronomy Gardens at UCSC.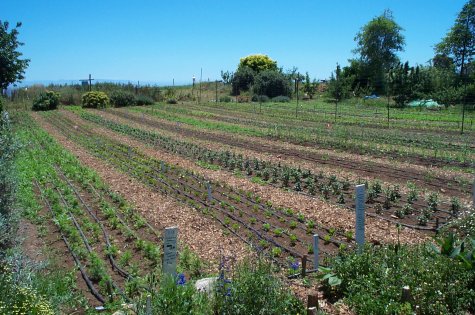 One of the well-tended gardens in the department of sustainable agronomy.
Students from around the world have been coming for over twenty-five years to learn
to farm without artificial chemicals, build the soil, conserve water, and grow superior produce.
They sell their fruit and vegetables twice per week at a farmers' market in the town of Santa Cruz.
I found this graffiti in the women's lavatory in the Good Earth Restaurant at UCSC.
In the evening I met Allison at Gateways Books and she treated me to dinner (against my protests). Allison and her husband Jim Dey are serious Tibetan Buddhists, and they have been volunteering their precious free time (they also work full time and are raising Allison's two children, Zach, 12, and Kala, 8) at Land of Medicine Buddha, a retreat center in the redwoods in the hills of Soquel. After dinner, Allison drove me up and gave me a tour.
Welcome sign at the retreat center
The center has fallen into financial durress and depends almost entirely upon volunteer staff and donations to remain open for its activities, which include empowerment ceremonies from resident and visiting lamas, meditation retreats, and a bookstore.
The sign above this twenty foot high prayer wheel says:
64 billion Om Mane Padme Hung
The big drum can be turned by pulling one of the four ropes below it,
and in turning, it emanates the sacred mantra of cause and effect.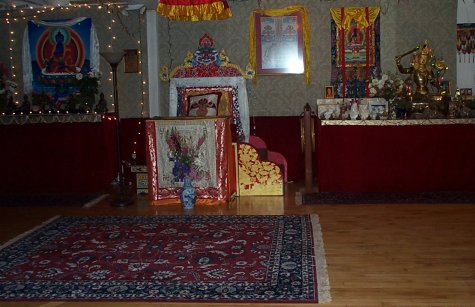 Interior of the meditation hall, with a central throne for the lama, and a variety of altars.
My favorite of the altars--a thanka of a yabyum.
I have to love a religion that includes, as a symbol for spiritual attainment,
the sexual ecstasy of god and goddess conjoined.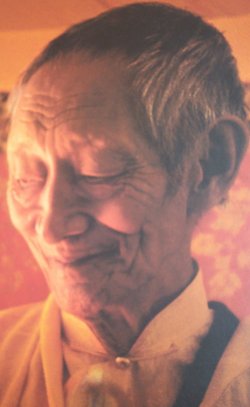 On my CD, Music From Living On The Earth, is a song
I composed in honor of this man, the Venerable Kalu Rinpoche.
This is how he looked at that time, in the 1970's.
He has since passed on--and re-incarnated, as is the custom for high lamas.
I saw the boy he became when he visited Maui in the 1990's.
Back at Gateways Books, Allison made me a gift of a purple linen shawl
handwoven by a Buddhist monk in Nepal.
I know I will wear it a lot.
As if that weren't enough, she also made a bulletin board display
for the store of my May 18 web page
describing the wonderful booksigning
she organized for me at Gateways Books.
We parted feeling very much bonded as friends. I know I will be back again.