Land of Many Uses
I set off on another long drive where I never before had gone. I stopped in the health food store in Weed, the next town north of Mount Shasta, and discovered that Kalona, the owner, who was working the cash register, had wanted badly to attend my booksigning in Mount Shasta, but was impeded by an injured foot. We were both delighted to remedy the situation with an autographed copy delivered directly into her hands. She leads dolphin encounter retreats twice each year in Kona, and plans to call me the next time she is in Hawaii.
I rejoined the river of fossil guzzlers (aka Interstate Five). To my surprise, just north of lushly forested Mount Shasta lay a wide valley, brown and desolate, at the north end of which lay Yreka, a town which advertises its fastfood chain franchises on the highway, hopefully not for lack of other cultural presences. I did not stop to find out. I traveled north on Old Shasta Highway along the banks of the Shasta River to its end at Highway 96, which follows the Klamath River to the sea just south of Crescent City, and turned left.
The Klamath River Valley, narrow and high-walled, shelters a widely spaced chain of tiny towns, RV parks, gold mines, logging camps, and fishing holes and hunting lodges. The Department of Agriculture calls it "Land of Many Uses".
A sign along Highway 96
For me, its primary use is awe. The farther down Highway 96 I drove, the more beautiful the river and its valley looked.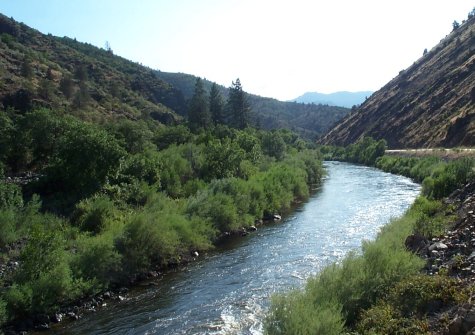 Klamath River and Highway 96 just west of Old Shasta Highway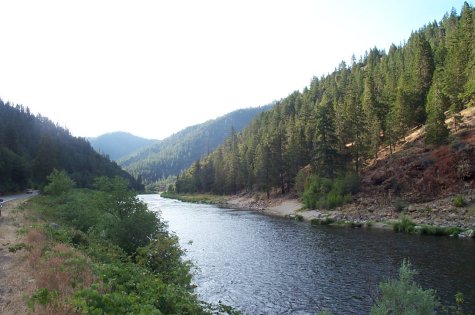 The Klamath close to the town of Seiad Valley, forty miles further west
I arrived at Tanya and Kyle's land early in the evening. Their house overlooks the river and a wide lawn runs down to it, beside the lawn, an orchard loaded with immature fruits of a dozen varieties. Tanya and Kyle buzz with wonderful plans. They will mill their fallen timbers, build two new houses, and tear down the old one inwhich they live now. They want to put up a satellite dish that will bring toll-free Internet access to Klamath Valley. Kyle will dredge the river for gold. Tanya will photograph the wild animals that visit her property. "I have seen bears of every size and color," she laughs, "if we sat out on the porch tonight we would probably see four or five." I am relieved to learn that to photograph these creatures one needs a very powerful telephoto lense.