Bloomsbury Books in Ashland
My previous booksigning events were ninety-minute performances dramatizing the tale of the two publications of Living On The Earth in story and original songs. This event required that I sit at a table and respond to whoever approached me. The book store had held a broom-building contest at the local elementary school in honor of the Harry Potter book bonanza, and contest entries festooned the entire store. I felt right in my element.
Bloomsbury Books, surrounded by the stylish shops and eateries of central Ashland, enjoys a frequency of local and tourist visitation.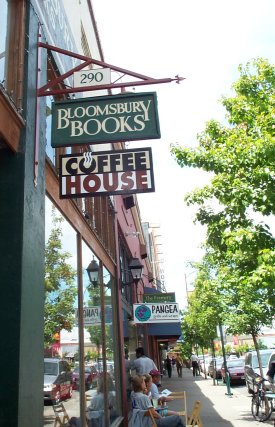 Event coordinator John Gaffey did his best to make me comfortable at my post. I suspect there is a book lurking within him waiting to be written.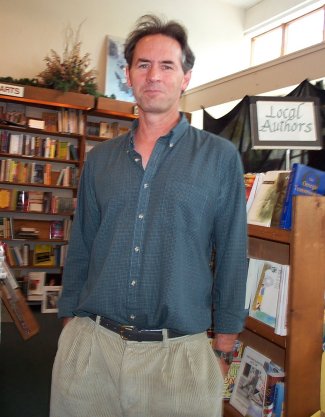 My first guest, Gloria, revealed that she was the first to publish reports on cruelty to animals in the cosmetic business. Today many products bear the symbol of the rabbit in the circle, stating they are cruelty-free. Right on, Gloria!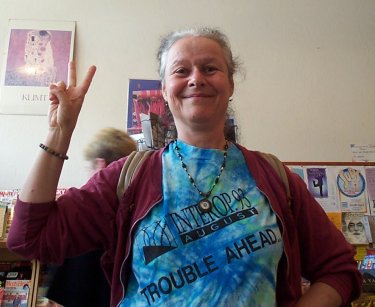 I met Sangha, a stone mason and organic farmer, on Maui in 1972, but I hadn't seen him in over a decade since he moved to the Big Island, where he married Zephyr and had a kid. They are in Ashland for the summer, and might stay longer.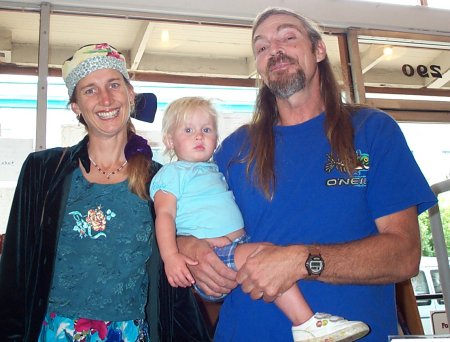 This lady's name is Alicia, too. Her daughter had studied singing with Sierra.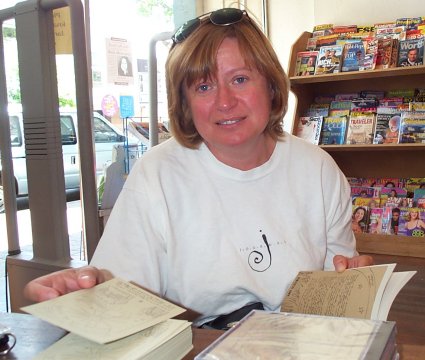 Right after Alicia came a visitor named Laurel who owned a copy of the original edition. I set up my portable CD player as a listening post for my music.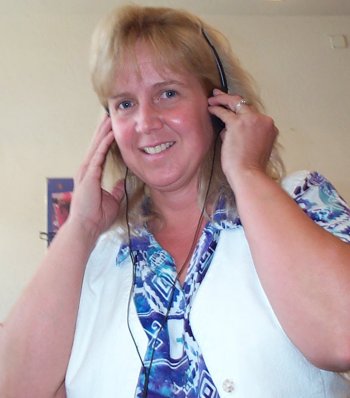 Blueberry the Kindler works as a piano tuner all over the state of Oregon. He brought in a handwritten notebook of his own making with fascinating similarities and differences to Living On The Earth.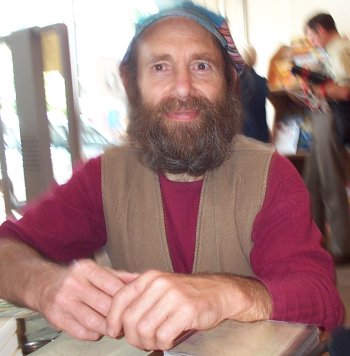 For example, here is a diagram for building the same 55 gallon drum heater described on page 33 of the new edition. He found it in a book called Producing Your Own Power.
The organic forms and colorful hodgepodge of information arise from a similar right brain approach to life.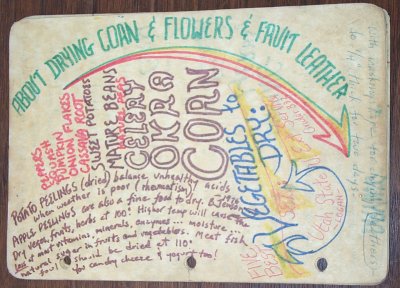 Coral, who attended my performance at Village Books in Mount Shasta, came to see me again.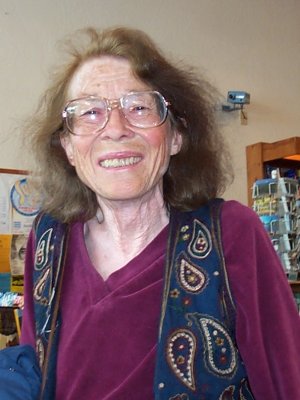 After the booksigning, I met Sierra for a girls' night out--Chinese food and medieval massacre.
Ashland's greatest fame is its Shakespeare festival, which, this year, runs from February 18 to October 29. All along the downtown streets medieval banners flutter. The Shakespeare Center includes three theaters, a gift store, a museum, costume and set workshops, and a plaza where a free show in the theme of one of the three plays being offered that evening is presented for theater-goers and interested community members. Nearly half of the plays presented are not by Shakespeare. For example, the current season includes The Man Who Came to Dinner by George S. Kaufman and Moss Hart, The Night of the Iguana by Tennessee Williams, and The Trojan Woman by Euripides. The outdoor Elizabethan Theater closely resembles Stratford-On-Avon, where Shakespeare first presented his plays.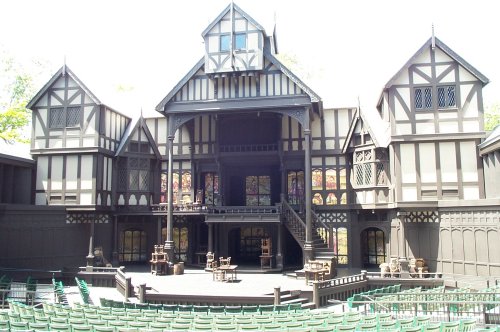 The play in the Elizabethan Theater for that night, The Taming of the Shrew, was sold out. I bought tickets for Henry V, which was being presented in the Angus Bowmer Theater, a large indoor venue with amphitheater seating and excellent accoustics. Before the show, Sierra and I attended the Green Show--the free show in the plaza--two singers and a band, plus five dancers, loosely based on the Taming of the Shrew.
The garlands gracing the stage were strung with theme decor: kitchen equipment and boxing gloves, all painted pink. I was grateful they had not based tonight's musicale on Henry V, inwhich swords and spears wipe out ten thousand French officers.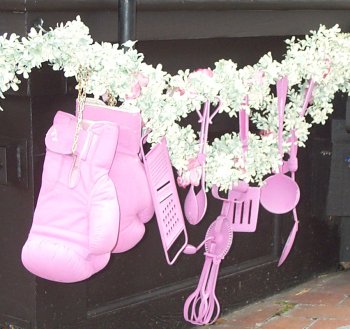 Sierra and I took a walk through the Tudor Guild Gift Shop, and found a wall of books by and about Shakespeare, and a profusion of loosely related consumer goods, including toy animals in Tudor costume: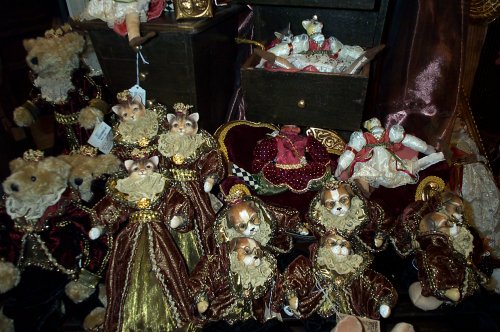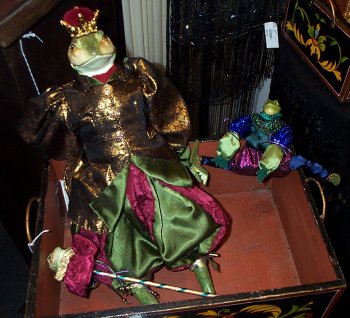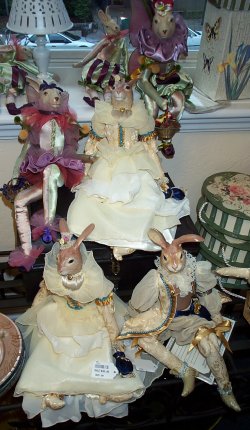 Sierra and I elected to be photographed by a series of books that included Uppity Women of the Middle Ages, Uppity Women of the Renaissance, and Uppity Women of Ancient Times.