Artists of Ashland
My time in Ashland was short, but very sweet. Early on Friday I hustled up to the University of Southern Oregon campus to be interviewed on Jefferson Public Radio's Jefferson Exchange.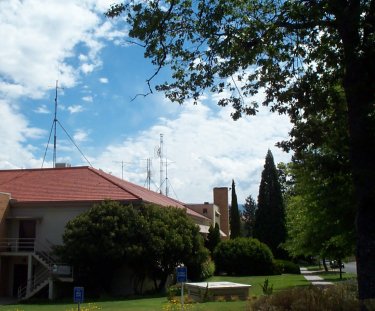 Radio towers atop the Business Education Building
from which Jefferson Radio broadcasts.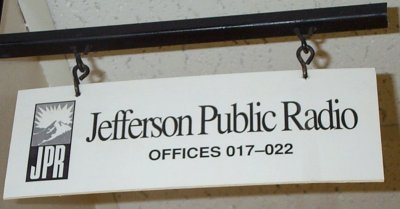 First surprise of the day was to meet another Hamazon--at work. Joanie McGowan, last seen wearing a fifty gallon hat and stars on her breasts, works as...well, her business card says Development Associate at Jefferson Public Radio. Something at a desk. She is a kick.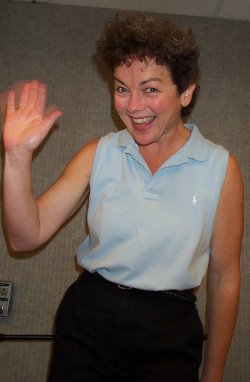 The next great fun was being interviewed by Russ Sadler, who teaches at the university and has thirty years of experience on the air. It shows. He carefully listened to my CD and chose songs for the show. We had telephone call-ins, including a young man with blue hair who wanted to go live on the land and build a straw bale house. Russ wants me to address his journalism class next time I come to Ashland.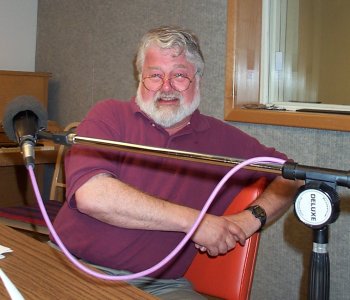 The producer of the show, Keith Henty, originally invited me to participate. He blended the whole effort together smoothly. Thank you, Keith!
After the show, I joined Sierra for a drive up to Emigrant Lake in the hills east of Ashland. Her favorite aspect of living in Ashland is the abundance of nearby wilderness areas available for hiking, swimming and camping during the summer, and she takes full advantage of them.
Looking east from Ashland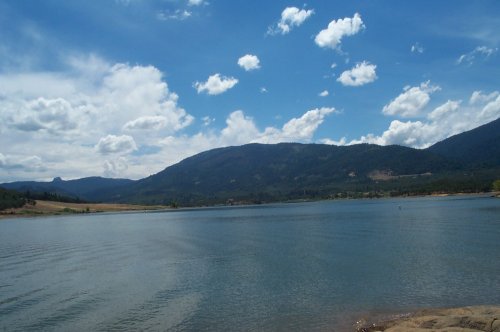 Emigrant Lake, a park area with swimming beaches and boat ramps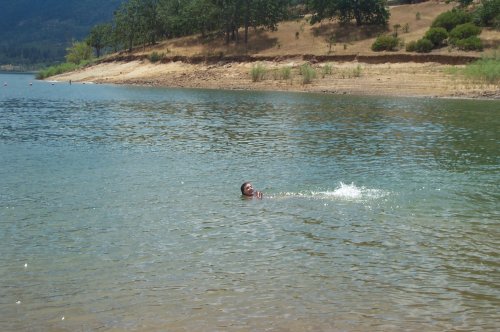 Sierra takes a swim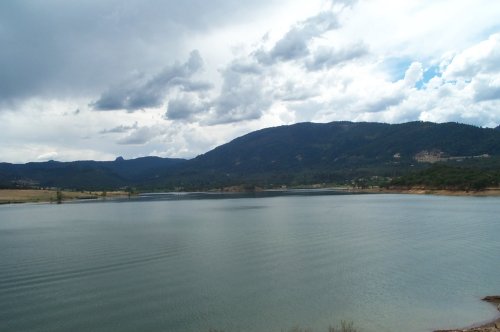 Clouds gather in the late afternoon above Emigrant Lake
Before leaving Ashland, I stopped by to see a new friend I met downtown the day before, the artist Talia (pronounced Tah-LEE-Ah) Hoke.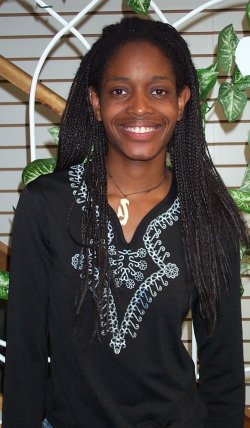 At twenty-one, Talia has already shown and sold her sculpture and has plans, big plans. At her first art show, at age nineteen, she sold everything, over a thousand dollars worth of sculpture. She makes pieces that she wants people to touch. She sculpts in plaster. She designs and builds furniture and mosaics it. Next year she plans a double major in art and religion at Tyler School of Art in Philadelphia. The next year she studies in Paris. In between is a month in Paraguay working with a friend who is in the Peace Corps. Then more travel while working on a master's degree in cultural anthropology, focussing on women in the Middle East. Later, another master's degree in non-western art history. She explains to me excitedly how they cast bronze in Zimbabwe, and that jade carvings take five to six generations to complete in Japan. She shows me a tattoo in Arabic on the back of her neck: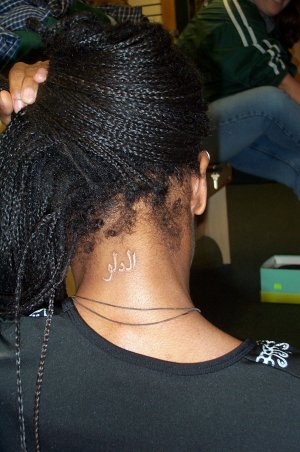 Driving from Ashland to Eugene, up Interstate Five over Grants Pass, the landscape began to assume my fantasy of what Oregon would be like--green green green, everywhere. Mountains and rivers, pine trees, lots and lots of green. The sunset over Canyonville, about halfway in my drive, moved me to exit the freeway and photograph it from an overpass.