Sunday At the Oregon Country Fair
What are the best aspects of the fair? Freedom of self expression. You can go topless--which makes it much easier to shop for clothes. High quality natural foods. Music at every turn. Art in all directions, all of it made by the person selling it. Compassionate causes presenting their stories. Adorable children giggling and having fun. Interesting architecture. Humorous presentations. Straw covering the pathways and sitting areas to protect the soil and keep dust off the people. Lots of recycling. And everywhere, people are friendly and open to conversation.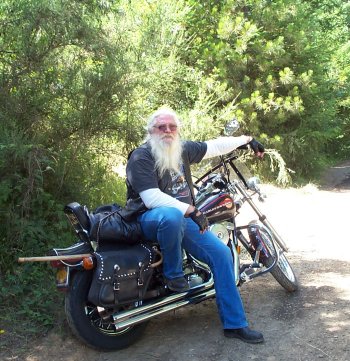 Even Mac, here on his hog, was happy to chat
and have his picture taken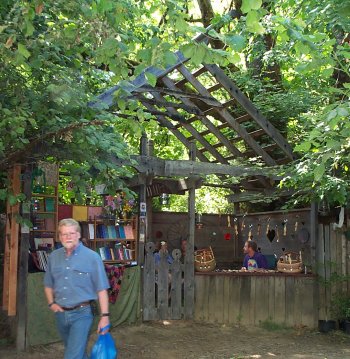 This booth houses a maker of books and handmade papers,
and a maker of spoon castenets, who built the structure five years
ago. "I get to sit in it five days out of the year," he told me.
This explains why the fair gives preference to exhibitors with
seniority. They build structures to which they expect to return.
The area often floods in the winter.
Body painting on bare breasts
Paul Owens carted his upright piano out into the woods
for three days of concertizing and selling his recordings.
He brought it down from Portland, Oregon in a horse trailer.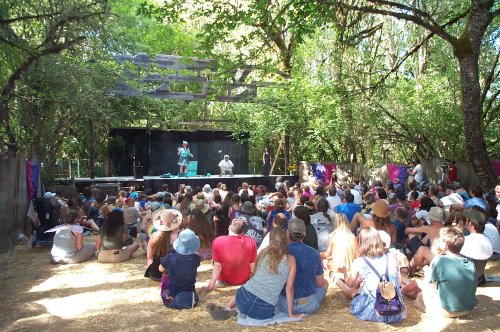 A rapt audience for comedy at the W.C. Fields Theater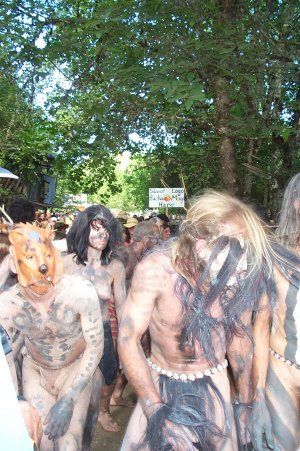 The Mud People chant and dance their way
through the crowd at the fair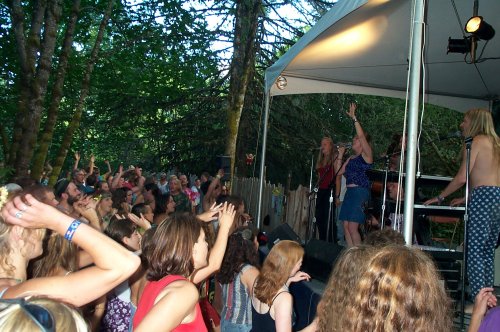 Eugene's favorite band, the Sugar Beets, wows the crowd with "psychedelic bluegrass".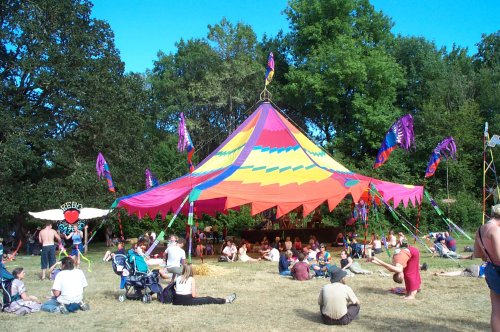 The Rebo Gazebo, a patchwork of immense proportions.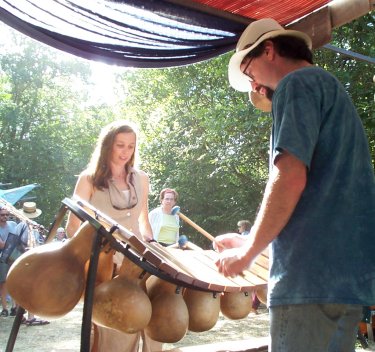 Ron Samuels and his wife Leslie play two of the marimbas he
built. The gourd resonators give each key a rich deep ring.
More info at www.marimba1.com. Ron lives in Arcata, California.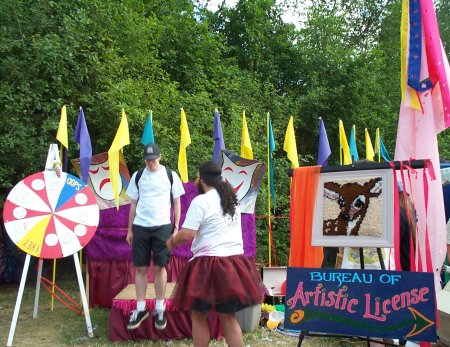 A newly licensed artist jumps off the stage after reading poetry aloud at the
Bureau of Artistic License booth. He is congratulated by the licensing agent.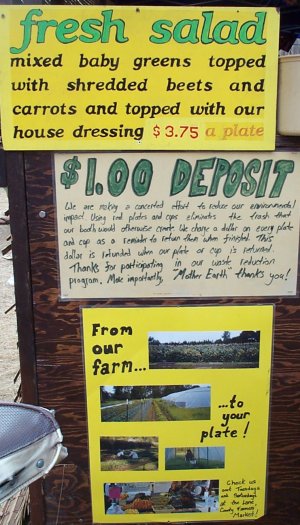 The most ecologically aware food booth offered
organically grown vegetables and fruits served as salads
smoothies, and juices, in non-disposable containers with
steel utensils for which a deposit was refunded upon their return.
The farm owning the booth stated that the land onwhich they
grew their produce had never been subjected to insecticides
or other toxic chemicals, even before they bought it.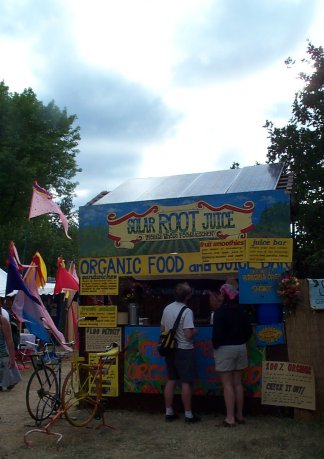 In front of this booth stood two stationary bikes
presumably for those needing to work up an appetite.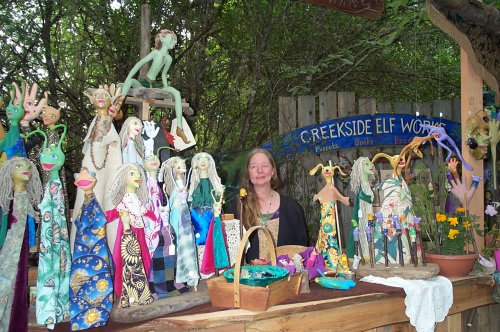 Karen Moeller, surrounded by her extraterrestrial and elf puppets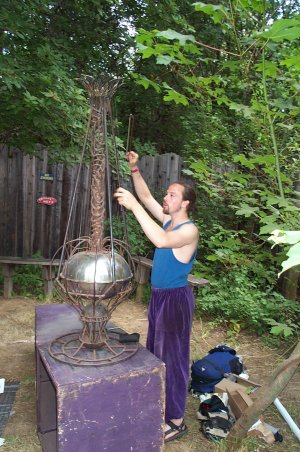 Ela Lamblin of Seattle tunes the Stamenphone, one of
many sculptures he builds, plays and records.
The metal resonating chamber rings like a glass harmonica
when Ela bows the outer strings with a cello bow.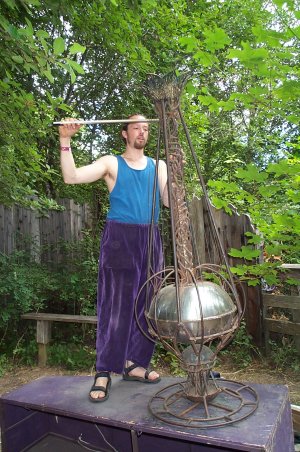 Ela Lamblin performing on the Stamenphone.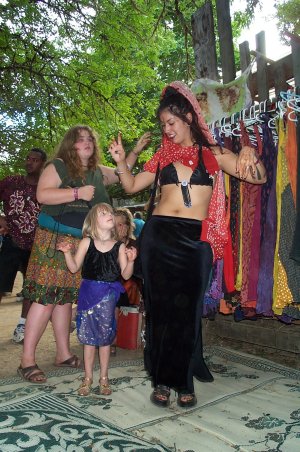 Zoe, aged five, finds a teacher to show her
how to belly dance in Terri Treat's clothing shop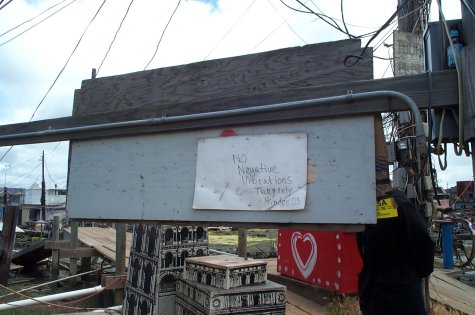 Zoe assembles her dance costume
and models it for me.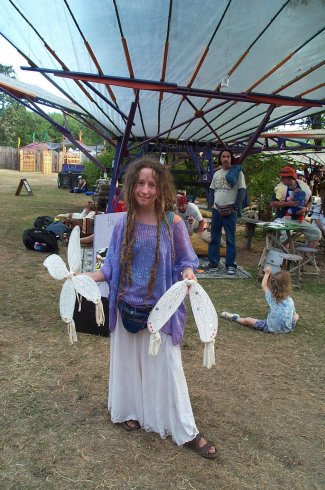 Lovely Shakaia holds fairy wings;
behind her, seated on the ground, is her
young son Iedidi.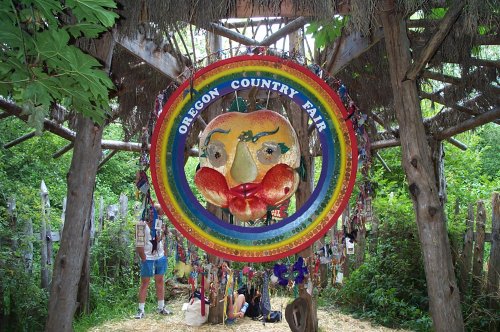 A giant version of the fair's peach logo hangs from a wooden structure.
Farewell to the fair for another year!