Funk Tech with Panache
Last Friday I arrived in Marcola, Oregon, twenty-five miles north-east of Eugene, to visit my friend Ayala Talpai, a soul sister from my commune days in Sonoma County. Ayala, both an artist and craftsperson, and her husband Richard Talpai, a master finish carpenter whose work graces the palaces of the rich and famous in Los Angeles, have created a faerie kingdom in the woods, all of it handmade with style, while living on next to nothing.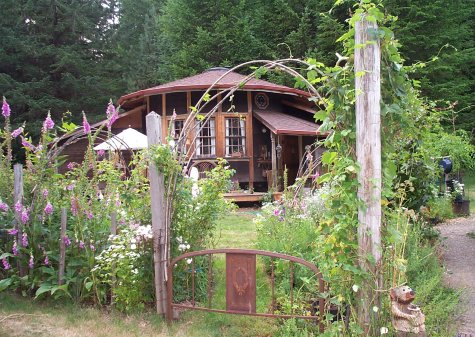 Their house, a yurt plus additions, surrounded by a flower garden
with this wonderful gate made of an antique bed frame.
Their business name is Diligence--and I can attest that they are seldom idle, and proceed with the glee of elves.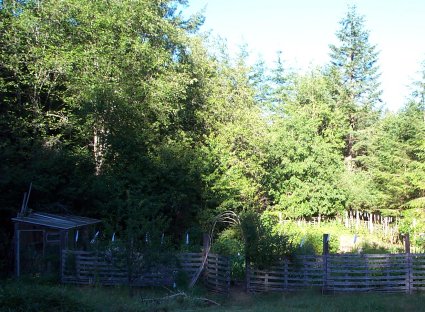 Beside the house, a round garden full of salad greens, cooking vegetables
berries, flowers, and fruit trees.
Ayala raised her five sons in the country, sometimes without electricity or running water. They thrived. South is a bow-hunter and back-packing guide who bought Nancy Peregrine's lama saddles and business. Olin just won a scholarship to study ceramics at Kansas City Arts Institute. Andrew learned Richard's trade and opened a finish carpentry business in Eugene at age twenty. Benjamin works as the stage manager of the opera company of Oslo; he married a Norwegian. Stephen has a family in North Carolina, where he works with software. Ayala says they are all gourmet cooks.
Richard and Ica'mani
Ayala spins her own yarn, knits hats and socks from it, and uses it to make felt fantasy creatures, dolls for adults, and illustrated felt rugs. The fiber for the yarn and felt comes from her menagerie of fluffy creatures, which include five sheep, five angora rabbits, two cats, and Ica'mani, a long-haired, sweet-tempered purebred German shepherd. Ica'mani (Ee-chah-mah-nee) means "walks along side" in a Sioux language; Richard chose him from among ten litters and nurtured him to perfection.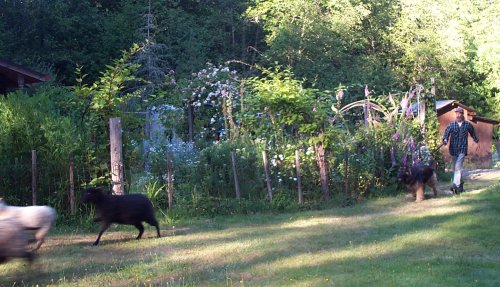 Ica'mani is the only shepherd dog I know with his own flock of sheep.
At night they are moved to the safety of the paddock by the house.
By day they graze one of several pastures, so that none are over-grazed
but, rather, all pleasantly mowed.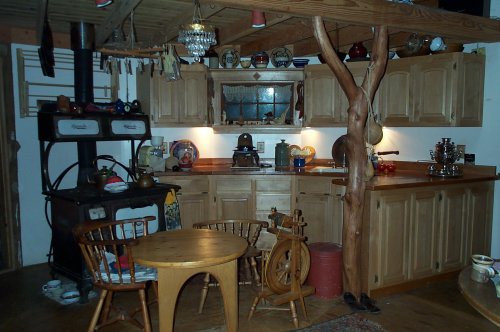 Ayala sheers her sheep and rabbits, and saves combings from the cats and dog.
She cards the wool from her animals and spins it in the kitchen.
Some of the wool she will dye before spinning it or making it into felt.
The loft above the kitchen serves as a bedroom.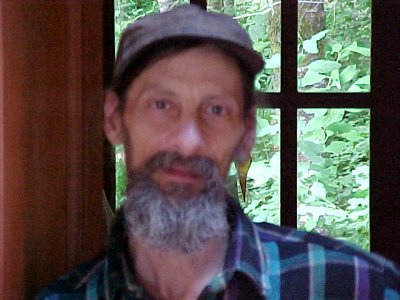 Richard's amazing woodworking created a series of architectural details
that deserve a tour, which follows: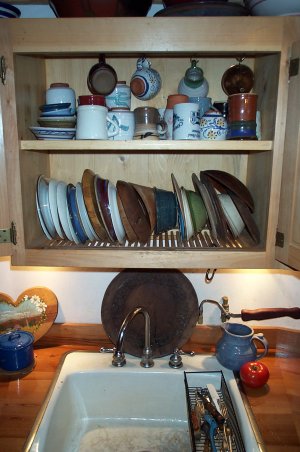 The cupboard above the sink doubles as a dish-drainer.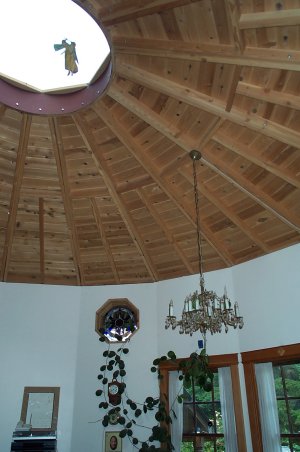 The inside ceiling of the yurt, with its central skylight.
An Italian folk art angel hangs on high, while a crystal
chandelier illuminates the dinner table.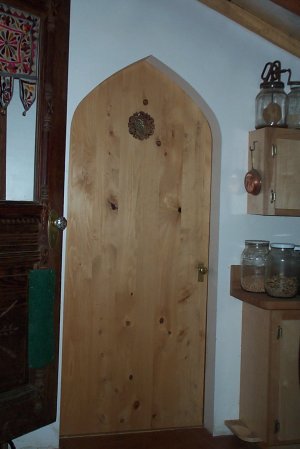 The gothic arch and rose window in the bathroom door.
On the shelf above, a butterchurn.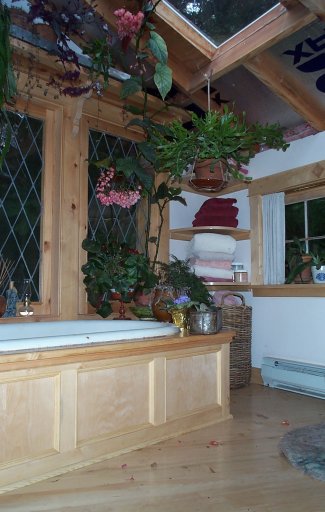 Bathtub set in paneled cabinetry, illuminated by skylight,
graced by hanging begonias and purple velvet plant.
One of Ayala's felt rugs on the beautifully finished floor.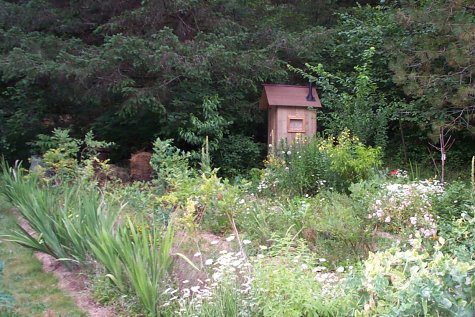 The lace-curtained outhouse bolts together to be moved over a new pit every
two years. An abundance of woodshavings serves to deodorize the pit after the
outhouse is used. It smells like wood, the way a sauna does.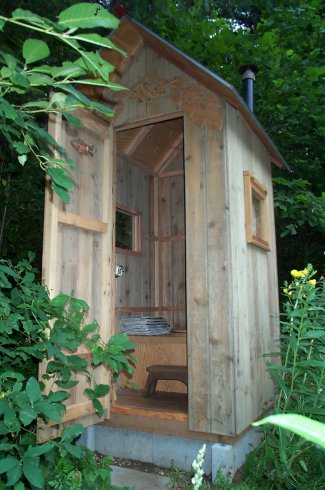 Carvings above the door, brass fittings within;
the very model of stylish outdoor plumbing.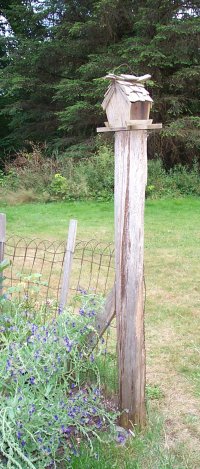 Even the wild birds have a shingled domicile here.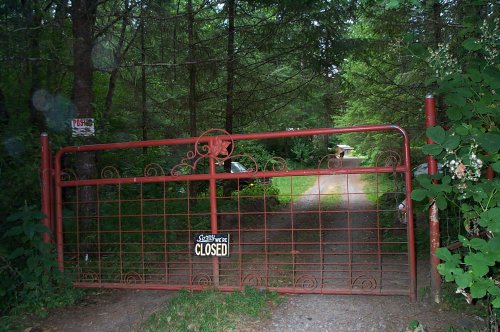 Even the metal front gate has a touch of fantasy. That's Ica'mani greeting me from afar.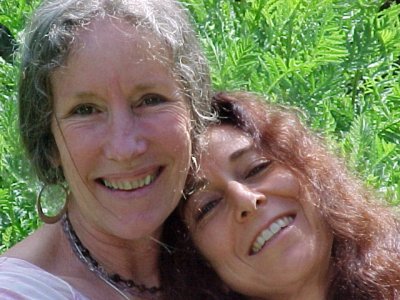 But the best part of the whole scene is sharing with loving friends of like mind.