Escape from Wedding World
About a year after I started my wedding business on Maui, I had a client who wanted to eat her wedding dinner on the spot where she would be married--on a grassy hillock overlooking Ulua Beach. I brought two chairs, linens, china, and my cake table in my van, and I had a friend who catered prepare a couple of Cornish game hens ("they are still tasty an hour after you cook them--not so with fish," she explained), and some side dishes. I waitressed the dinner myself. And so, an industry was born.
Soon after, I met a chef whose wife had marketing skills, and asked them whether they would make dinners for two by the beach for my wedding clients. The two went on to create a successful business, cooking on-site with a specially designed chef cart with gas burners on top. As the business grew, they hired other chefs. When they eventually sold their business, their best chef, Paul Alkire, started his own. Paul and I became great friends. We both cared more about the product than the profit. We wanted our creations to be fabulous, as much for ourselves as artists as for the pleasure of our guests.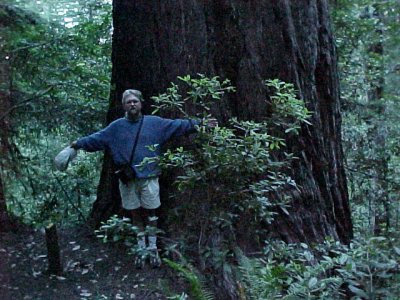 Paul says Oregon is the most beautiful state in the Union
Eventually Paul realized he was much happier working as a private chef for a few clients, and gave up his on-site chef business. I decided that I would rather do my own art, writing, and music than run a service business in a resort town and sold it. Now Paul lives half the year in Portland and Bend, Oregon and half the year in Maui, cooking for a family that owns homes in all of these places. I am on the road for almost a year, sharing my creations. I am so pleased that our paths can cross again.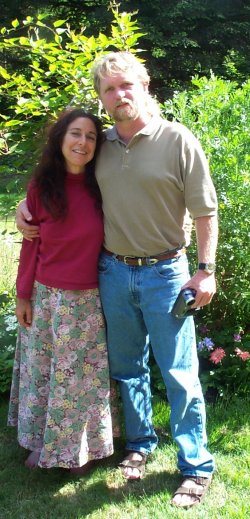 Paul drove down from Portland to visit me in Marcola. He brought information, ideas, contacts, appreciation, hugs. Some things don't change. He showed where to buy or sell a car on the Internet, told about places I should see in Oregon, caught me up on friends in common I had not seen since I left Wedding World. We reminisced without regret. Paul tried on one of Ayala's poet shirts. Ayala showed Paul how to make a tofu pate. All three of us have our bizarre wedding stories. Fun to introduce good friends from different periods of my life. So great to see one another living our visions.