Grassroots Books in Corvallis
"Our concept from the beginning was to create a 'third place'," Jack Wolcott explained to me about his thirty-year-old bookstore in downtown Corvallis, which had sold Living On The Earth in its original edition. "Home is the first place; where you work is the second place. A third place is one where you go to relax, meet friends, have some unstructured time."
The store grew gradually, originally occupying a less than a quarter of its present floor space. The loft where I performed was added recently; the section where the coffee bar stands was once a bakery nextdoor.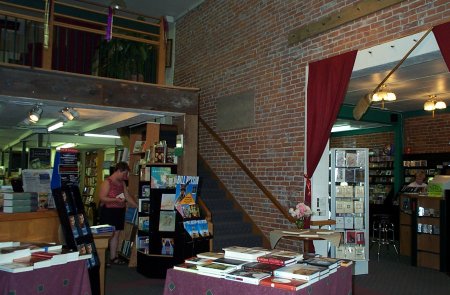 Jack Wolcott and Sandy Smith have been living together almost as long as the store has existed, and they run it together. Jack moved to Corvallis to attend Oregon State University ("we're not quite as radical as Eugene..."), got into bookselling by working in a health food store, and started Grass Roots with a couple of friends. He smiles and tells me that a Borders will open soon in Corvallis. "It's OK," he assures me, "we opened as an alternative bookstore, but because Corvallis is so small, we've had to carry books for all kinds of people. That's been fun, but now we can go back to being the alternative bookstore."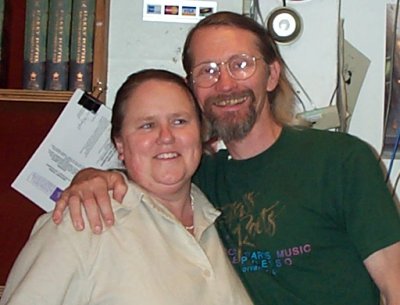 These people treated me like a queen. They treated me to dinner at their favorite restaurant, drove me around to see the sights, invited me to stay in their home, helped me move my equipment in and out of the store, displayed my book with a vase of roses and a handlettered, illustrated announcement. Thank you, Jack and Sandy!!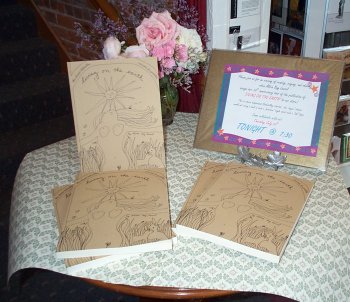 Nearly Normal's, a vegetarian eatery serving "gonzo cuisine" (motto: "When the going gets weird, the weird turn pro"), attracts both 'boomers and gen Y's--big portions, creative recipes, homemade sauces and condiments, almost all organically grown produce, and a sweet arbored patio in back.
Of course, I had a carrot juice and a big green salad with their famous spiced tofu and homemade tahini-lemon dressing.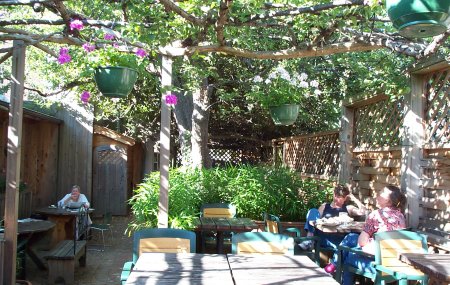 Jack wanted me to see a mysterious sculpture in the park near the swing sets and sandboxes. Check this out: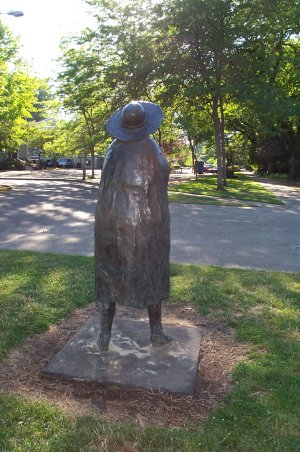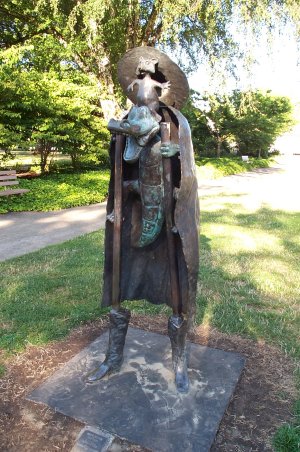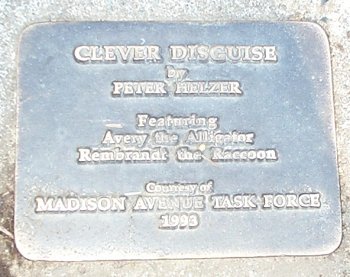 We returned to the bookstore and set up for my show. To my surprise and delight, Alegria drove up from Eugene--and brought along a carfull of friends. Everyone showered me with love.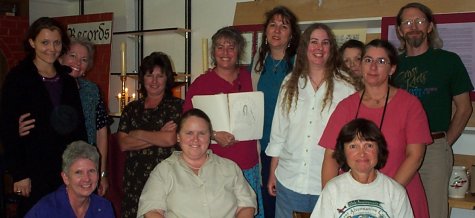 I got to sign some soulful old original copies, as well as some new ones--and a couple of t-shirts with a permanent ink pen.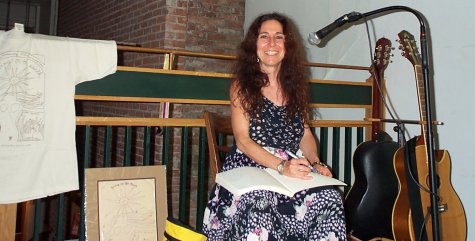 I followed Jack and Sandy on a thirty-minute drive out of Corvallis and into the foothills to their country home, surrounded by woods and organic gardens, and comfortably furnished within, where I passed a peaceful night.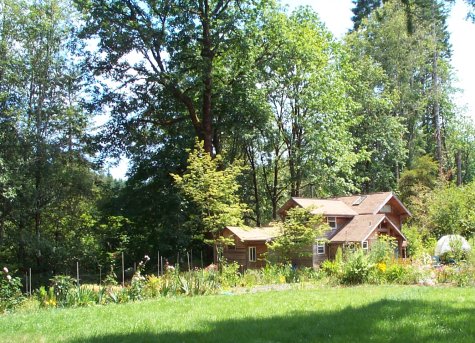 On one side of the house hangs the door of an old Home Comfort woodstove. In the winter of 1971-2, I contributed illustrations to a communal book named for this stove, which had once warmed the kitchen of Packer Corners Farm in Vermont, a place I will visit in less than five weeks.