The Fremont Sunday Market in Seattle
Bernie Wohl recycles things and people. She rescues treasures from the oblivion of attics, garages, rummage sales and thrift shops, and brings them to the light of retail. She grew up in the antique business; her mother still has a shop. I've seen Bernie through three creative second-hand stores, Kihei Towne Antiques in Kihei, Maui, and two in the radical Seattle student neighborhood of Capitol Hill, Nine Lives and Aqua-Nett, the latter part of a performing complex created with her son Tyler Willman, a prolific singer/songwriter and former grunge star.
Her eyes of love rescue treasures within her clients as a codependency therapist. Men and women come to her desperate and depressed and leave inspired, hopeful. She is the champion of the Inner Child and pointer to the power of the Inner Spirit to heal and guide. She has over twenty-one years of sobriety in AA, four years of training as a therapist, decades of personal research, two grown children, two grandchildren, and just found out a third one is on the way. She is my co-driver for the ride to the east coast. She loves an adventure.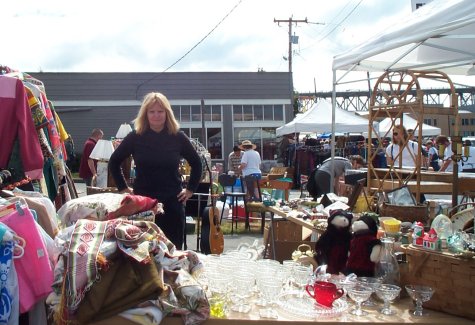 Bernie surveys her merchandise
Her Toyota Camry piled to the ceiling with boxes of assorted stuff, Bernie careened ahead of the Peugeot through the early Sunday morning freeways to the riverfront street below Fremont Bridge where the Sunday Market hustles itself into being. As she unpacks the boxes, shoppers gather. Bernie has expertly picked things that will move--oil paintings, kitchen items, costume jewelry, toys, tools. Between this and counseling, she makes a living.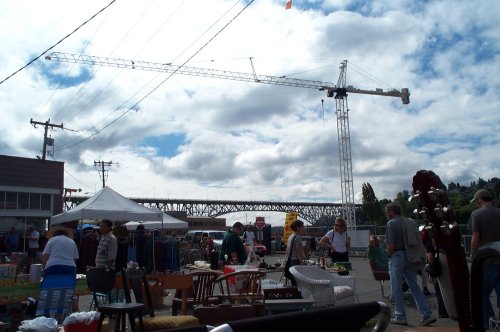 The Fremont Bridge
Sunday Market in Seattle includes a farmers' market, a craft fair, a flea market, food booths, art booths, bargain retail, imports, and new manufactured products. I saw a fabulous display of large fresh berries, and a crepe-making booth where I bought for lunch a buckwheat crepe filled with chevre, sauteed red bell peppers, fresh spinach and chopped walnuts. A muscular, longhaired lad demonstrated the Utilikilt--working skirts for men--available in khaki, black and camoflage. When not occupied with sales, he lustily fondled and kissed the young woman helping at his booth. An old beatnik hawked classic jazz CDs, a young boho offered semiprecious stones from around the world, a shirtless marimba player droned on for hours in hypnotic rhythms. A thirty foot high replica of a missile loomed behind the scene; I am not sure why.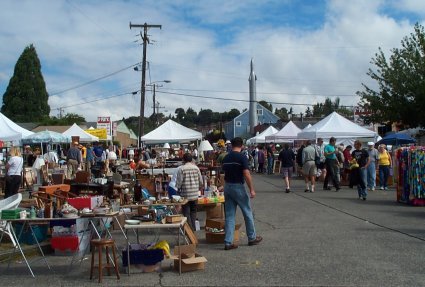 The Flea Market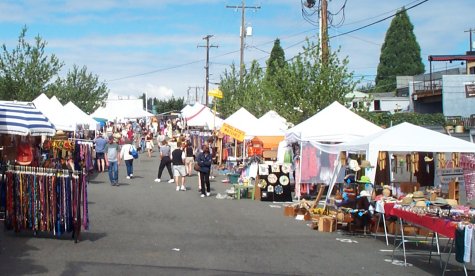 The Crafts Section
I set up my battery-powered amplifier, microphone and stand, one guitar and guitar stand, and regaled all present with Hawaiian, folk and blues tunes, mostly original. I had not planned on busking, but found myself the happy recipient of tips. My books, posters, t-shirts, art prints and CDs attracted a stream of visitors, many of whom recognized the book. Every time I stopped performing, I also had to fend off a series of shoppers wanting to buy my musical equipment or the CD player that functions as a listening post for my recording.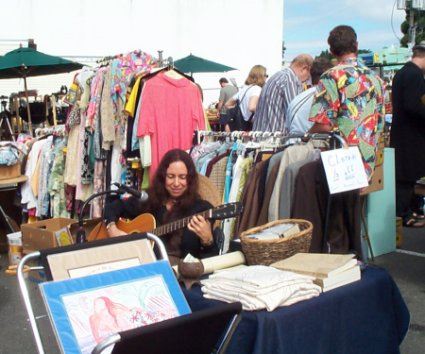 Stompin' at the Flea Market
Soon after I played my first traditional slack key piece, a Filipino man born in Honolulu came over and introduced himself, Mr. Leo Tolentino. My Hawaiian music teacher, Clara Tolentino, is related to him by marriage. I played him the song I wrote about her. He sang along in a pleasant voice, and lamented afterward that, at seventy-four, he has no outlet for his talent. He sang me a jazz standard from the 'forties a capella. I said, "Leo, did you know your name means 'voice' in Hawaiian? I bet there are at least ten other people in Seattle who wish could get together with some others and perform jazz standards just for fun. I bet if you ran an ad in the newspaper you would find them." Bernie said "You could perform at nursing homes. The people there would LOVE it." Leo actually lit up at these suggestions, and, by the end of the day, vowed he would follow through with them. Leo volunteers two days per week at the Food Bank and, on Sundays, helps his friend, Ann, with the lifting and carrying for her flea market booth. Big heart, this guy.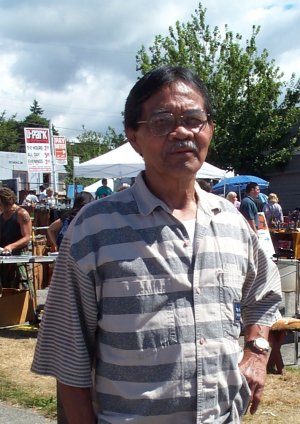 Mr. Leo Tolentino
A sprightly pair of lesbians considered buying my t-shirts. "Can you imagine what my mom would say if I came for a visit wearing this?" one asked the other.
Jennifer and Michael had just seen my book in the window of Elliot Bay Book Company and took the opportunity to get a closer look. They plan to come to the booksigning on Thursday.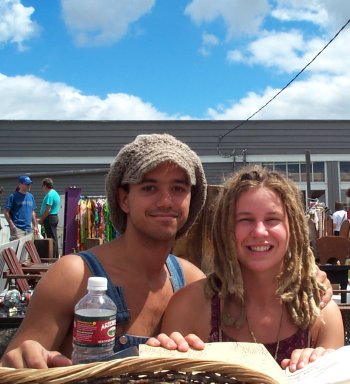 Marta had the original book in her 'teens and weathered an avanlanche of flashbacks while perusing the revised edition.
Luana heard me playing live music, then came over and listened to my recording through headphones, and purchased a CD. As she was enthusing about the music, her mother arrived, equally blissed out by Kettle Korn.