Powell's Books in Portland
After I booked my tour, many friends asked me whether I would be doing an event at Powell's in Portland, one of the largest independent bookstores anywhere. I already had a booking at Barnes and Noble across the river in Vancouver, Washington, and, in the flurry of making my first CD, my first set of art laser prints, my web site, t-shirts, posters, travel arrangements, publicity...and putting my household in storage, I just didn't follow up on it. I didn't realize how far apart these two bookstores were, not only geographically, but spiritually. Not until I walked in tonight and saw who was there (Cultural Creatives of all ages), what they were buying (lots of philosophically uplifting books on practical subjects), and how many author events they do each month (a couple dozen), did I truly understand why so many people had urged me to offer my event to this particular store.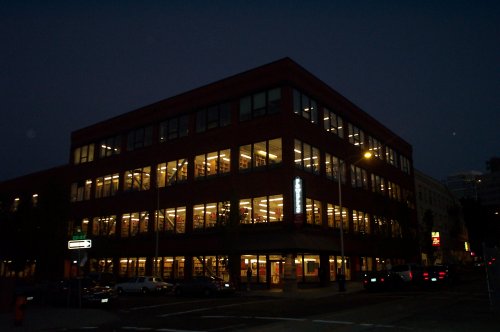 Powell's bookstores takes up all four floors of this building
as well as six other locations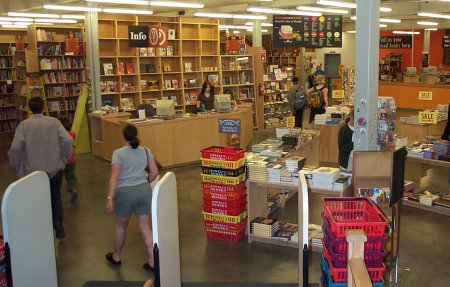 Unlike any other bookseller I have visited, Powell's offers shopping baskets,
understanding it is impossible to exit such a wealth with only one volume in hand.
Hanging from the ceiling, a large chart helps to guide shoppers to their literature of choice.
Nonetheless, maps are also offered, and store tours on Tuesdays at 2 PM and Thursday at 11 AM.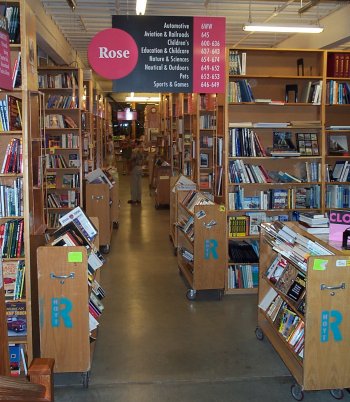 From the back of the map available at Powell's information desk:
"If you walk through Powell's, you will find a certain logic to the way our books
are organized and shelved. However, we do not always use the same system libraries use.
New and used books are shelved together. Often, new and used copies of the same books
will be right next to each other on the shelf. Biographies are shelved according to subject;
they are not in a separate section. Eleanor Roosevelt biographies, for instance, are in
U.S. History; Ernest Hemingway biographies are in Literature."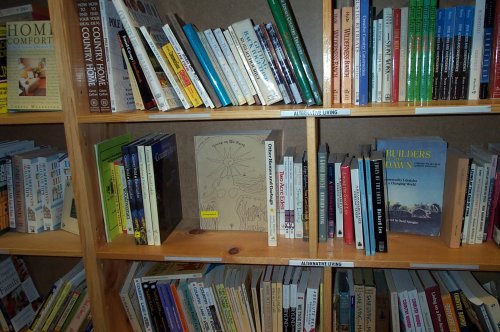 Living On The Earth is shelved among the Alternative Living books;
one 1971 edition and four new copies. I autographed them all and
affixed the store's autograph stickers, to the delight of the management.
It was the least I could do under the circumstances.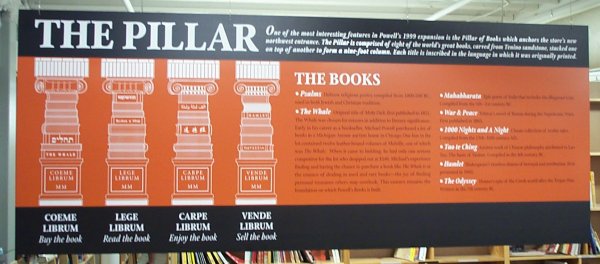 Here are the words of this informational sign just inside the northwest entrance to the store:
"One of the most interesting new features in Powell's recent expansion is the Pillar of Books, which
anchors the store's new northwest entrance. The Pillar is comprised of eight of the world's great books,
carved from Tenino sandstone, stacked one on top of another to form a nine foot column. Each title weighs
about 500 pounds, and is carved in the script in which it was originally printed.
Psalms Hebrew religious poetry compiled from 1400-500 BC
The Whale Original title of Moby Dick, first published in 1851. The Whale was chosen for reasons in
addition to literary significance. Early in his career, Michael Powell found and purchased a set of leather-
bound Melville titles at an auction house in Chicago. One of these titles was The Whale. Michael's
experience is at the heart of dealing in used and rare books. The joy of finding personal treasures
that others may overlook remains the foundation on which Powell's Books is built.
Mahabharata Epic poem of India that includes the Bhagavad-Gita. Compiled from the 5th-1st century BC.
War & Peace Tolstoy's novel of Russia during the Napoleonic Wars. First published in 1865.
1000 Nights and A Night Classic collection of Arabic tales. Compiled from the 13th-16th century AD.
Tao Te Ching Ancient work of Chinese philosophy attributed to Lao Tzu. The basis of Taoism.
Compiled in the 4th century BC.
Hamlet Shakespeare's timeless drama of betrayal and retribution. First presented in 1602.
The Odyssey Homer's epic of the Greek world after the Trojan War. Written in the 7th century BC.

The pillar, just outside the bookstore entrance.
Clearly each book is carved from a different piece of stone.
Certainly for me, the effect of the sculpture, and the information
accompanying it, was to whet my appetite for the classics.
The word "transformation" is holy in the culture of creatives.
Our highest praise for a person, piece of art/literature/cinema/music,
or a life experience, whether deliberately therapeutic/spiritual or not,
is to note we have changed as a result of being there.
Well, Powell's is a life-changing experience--
and not necessarily the self-improvement book section.