Such A Deal
In Eugene, I acquired a copy of The Honest Engine Used Car Manifesto, written and distributed by Allan Hesch, thanks to a suggestion by Laura Carroll, who coordinated my booksigning there. In it, Allan explains the best reason for buying from a private party instead of a dealership:
"Just as a good dog with a bad owner will take a lot of work to make into a great pet, the owner of the car is a huge factor in how good the car will be for you. In a real way, right now you are shopping for the right ex-owner more than the right car, and that's nice, because you are a much better judge of character in the present than you are a forecaster of some machine's mechanical needs in the future. Think of it this way. The owner should be the kind of person you'd trust enough to lend your car to for a long time, because that is exactly the situation at hand: in effect, that person has been borrowing your car for the last few years!"
You, too, can acquire the full brunt of this worthy mechanic's wisdom for a mere $5 by writing him at 108 Cross Place in Eugene, Oregon, 97402, calling him at (541) 342-2366 or (541) 579-3000, or by emailing him at allan56@efn.org.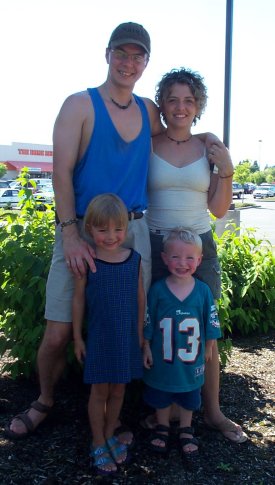 Meet Corey, Lori, Calla and Jaron Malcom. They owned the car of my dreams for the first 11,000 miles. Corey changed the oil faithfully every 2500 miles. The car payments got to be a burden. Time to downsize.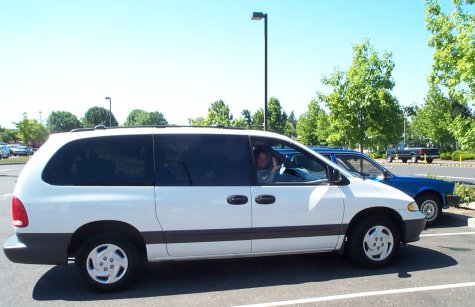 My first look at the van, a 1998 Dodge Grand Caravan, in a shopping center parking lot in Beaverton where we met on Saturday. I found Corey and Lori over the Internet at the Autotrader site, where they had placed an ad. Autotrader sifts the possibilities by type of car, price, and distance from where the shopper is located. I testdrove it and we agreed upon a price, pending inspection by a mechanic on Monday.
Meanwhile, my ad in the Willamette Week for the Peugeot had elicited the same response from Will Goloveyko, who designs shoes for Nike. He works in Beaverton, not far from where Corey works at Timberline Software, so, on Monday morning, early, Will met me outside the Temple and drove me to the Timberline Software parking lot in the Peugeot, which he took, later in the day, to the Peugeot mechanic in Portland. Waiting for me at Timberline were the Malcoms, and Dave, the owner-operator of E-Lemon-Ators, a mobile used car checking service that I had contacted over the weekend.

Dave puts the van through its paces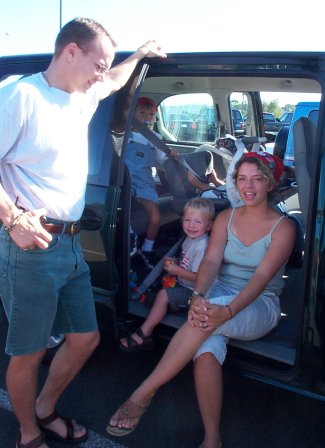 Corey and Lori wait in Lori's mother's van with their kids
plus two more who are there for Lori's day care services.
Dave says that he always finds SOMETHING wrong
with every car, but he can't find anything wrong with this one.
So, I happily pay Dave for his services and Lori and Corey for their car; we caravan over to the DMV and find out that nothing can happen until the Malcoms pay off Chrysler, get the title, and send it to me. This could take a month or more. Meanwhile I have a bill of sale. I drive back to the Temple in Portland. I name my new companion Crescent, because she is silent, cool, elevated, and powerful as the moon.
At five o'clock, Will shows up with the Peugeot and the mechanic's report. We agree on a price, exchange car for cash, and part agreeably. I am happy to see Winnie going to someone who truly appreciates her.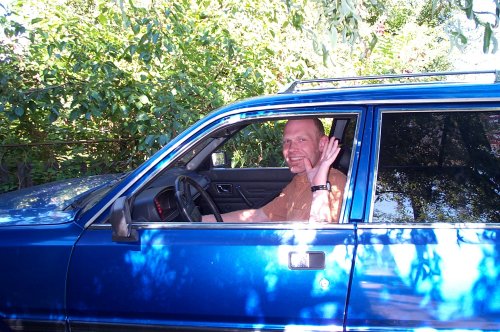 Will, who got his first look at Winnie on my web site, agreed to pose for me in his new chariot. "Your readers will wonder what happened to Winnie the Peugeot," he said, "we have to have a picture."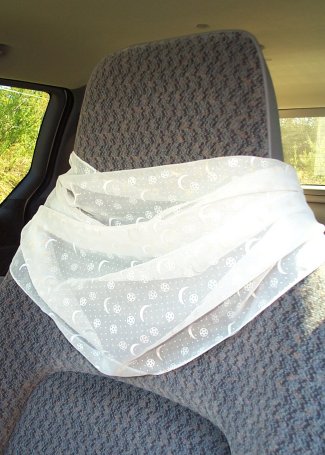 I found a white scarf with silver and gold crescents and pentagrams printed on it in the Mystic Moon magic shop in front of the Temple--just the thing to dress Crescent up a bit and welcome her. Raven was working the counter that day, and she offered to come out and bless the car for me.