Round Trip To Reno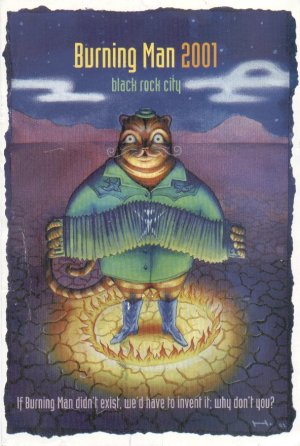 I wanted to go to Burning Man, a weeklong art and survivial event held annually in the desert one hundred miles north of Reno, Nevada. My friend Mari Kono would be there, projecting her erotic photo images as part of David Normal's presentation, a colossal flaming anus, complete with music by the band Estradasphere and a bevy of chorines costumed as turds. Not everyone's idea of art, but certainly one that provokes a reaction. I loved the ideas expressed on the Burning Man page: that people would live together in the wilderness for a week without buying or selling, instead engaging in a gift economy, creating art for its own sake, encouraging one another to express themselves outrageously. It's a bohemian event, but not a hippie event (that would be the Rainbow Gathering), attracting more Gen X and Gen Y celebrants than their parents. I am neither attracted nor shocked by its kinky aspects (such as David's multi-media piece); what I love are experiments in art and community. Burning Man consists of both, on a grand scale.

I bought my ticket to Burning Man, a round trip from Boston to Reno, and a car rental, over the web. I would be arriving at 9 PM, and realized I would need one night's accommodations in Reno, before stocking up on food and water and making the hundred mile drive. Seeking advice on where to stay, I emailed the groups originating from Reno that were creating installations at Burning Man. Two emailed back recommending economical hotels, and one offered me lodging in his own home! Later he referred me to Michael Johnston, a friend who would not be going to Burning Man and had an apartment he was willing to let me use. I called Michael. He works at the Reno airport, and offered to meet me at the gate when I arrived.
On the morning of September 1, I separated out the items for the trip to Nevada: tent, Thermarest mattress, collapsable water containers, solar shower, gifts, flowing clothing, parasol...and fit them into a single large suitcase. I parked the van at David and Margot Wizansky's house in Brookline (not far from Cambridge), and took a cab to the airport. When I changed planes in Chicago, I spent a delightful two hours with Megan McClelland, one of fifteen young people whose lives I've touched as a step-parent. Megan is closing in fast on a doctorate in clinical psychology at Loyola University. We dined at Wolfgang Puck's (first time I've ever had good food in an airport) to the sounds of a live jazz quartet, who were hired in honor of the Chicago Jazz Festival, which was on-going that weekend.
Sure enough, Michael met me at the gate, drove me in his pickup truck to the luggage carousel, helped me with my luggage to my rental car, and handed me a key to his apartment and a map to get there. Like Blanche Dubois, I always rely upon the kindness of strangers, but sometimes my own good fortune simply astounds me. The apartment overlooked the Truckee River, and the room set up for me, usually inhabited by his teenage daughter, was sweetly festooned with Christmas lights. Post-it notes around the kitchen advised me I was welcome to eat anything on hand, and pointed out the key to the laundry room. I spent a peaceful night.
After sweltering in Boston and Chicago, I was surprised to find myself shivering at the airport in Reno. The next morning, the rain swelled to a downpour, and I awakened feeling feverish and exhausted. The last thing in the world I wanted to do was drive one hundred miles in the rain and camp out in my tent. I called Michael's cell phone and left a message, explaining I was not feeling well, and asking whether I might stay another night or two until I felt better--and that I would certainly move to a hotel if this did not work for him. I never heard from him, and I spent the next four days mostly sleeping. On the fourth day I laundered the sheets and towels, replenished the supplies I had used, vacuumed the floor, left a thank-you note and a CD, and headed to the airport. I missed Burning Man, but its gift economy had touched me even one hundred miles away.