Return from the Netherworlds
When I awakened on September 5, I felt refreshed and ready to resume my journey. The Tofu Tollbooth, my guide to health food stores crosscountry, recommended the Washoe-Zephyr Food Co-op in Reno, but I found it closed, with a sign "Going Out Of Business". I resigned myself to shopping in a supermarket, and, to my astonishment, found nearly all the organic groceries on my list contained therein. Only the herbal items (echinacea tincture and arnica gel, both of which belong in a wise traveler's valise), had to be found elsewhere.
The Reno phone book revealed two herb shops between Michael's apartment and the airport. I found Everlasting Health in a medium sized strip mall, well-stocked, and even equipped with a massage room. I splurged on a treatment from Helen Kelly, who not only massaged away the knots in my back, but treated them with pulsed harmonic light from her Gemstar ray gun. She says she is the only massage therapist in Nevada that owns one.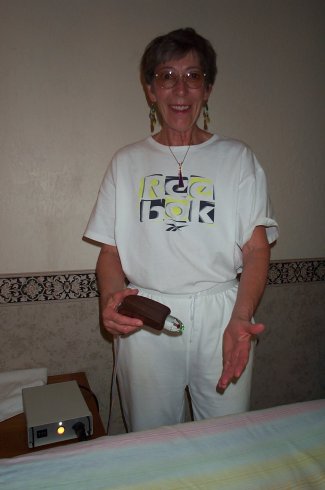 I wasn't eager to fly back on an overnight flight, but, to my surprise, I found it relaxing. I had my entire row, with its three blankets and pillows to myself, and I sprawled across the seats, resting, if not sleeping profoundly. The crew awakened everyone in time to see the sunrise over Boston: