Beyond Words in Northampton
Massachusetts burgeons with universities; five large ones cluster around Northampton and neighboring Amherst. Main Street, Northampton shares the feeling of Telegraph Avenue in Berkeley. Scruffy youth strum guitars in doorways. Earnest vegetarians crowd spartan cafes; chess games proceed in coffee houses. Handbills for liberal causes, theatrical productions, and combinations thereof cover the bulletin boards. Cornucopia Natural Foods is well-stocked, but parking is scarce. Plus, it's New England, land of historic buildings, scholarly souls, gourmet food, rolling hills covered with thick forests, limpid ponds, stone walls. All of this and a college town, too. Heaven.
I decided to go for an event in Northampton at the advice of Skip Stone, author and proprietor of www.hippy.com, a documentor of bohemian culture. I found out about Beyond Words by calling up Cornucopia Natural Foods, which is listed in Dar Williams and Elizabeth Zipern's guide to natural foods stores across the nation, The Tofu Tollbooth. Risha, the young woman who answered the phone, kindly listed for me the bookstores in the area, and told me her mother had my book when she was growing up. I called several stores, and Diana Knauth, owner with her husband, Jeff, of Beyond Words, not only invited me to do a booksigning, but to stay the night at her home afterward.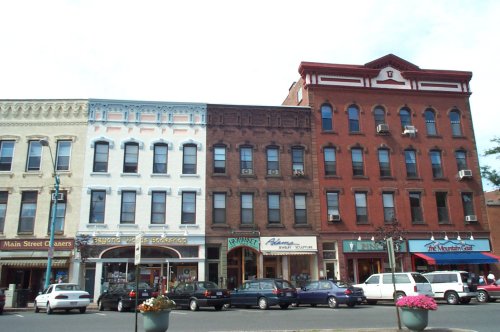 The section of Main Street where Beyond Words Bookshop stands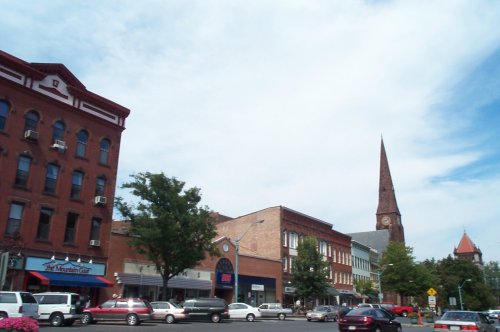 Looking north on Main Street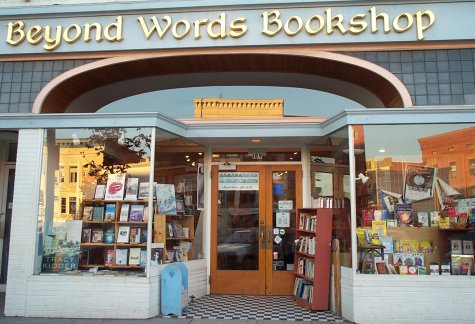 Entrance to Beyond Words Bookshop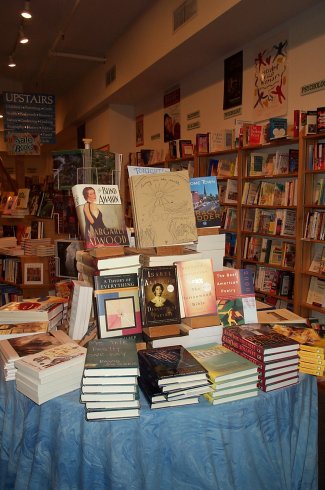 Inside the entrance, a display with Living On The Earth,
and an announcement of the upcoming event.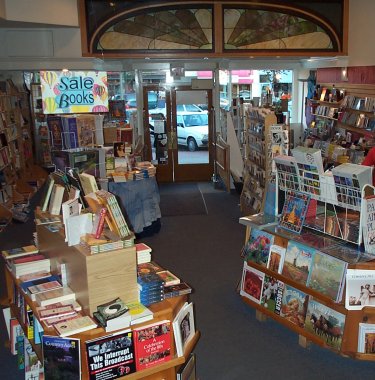 Above the entrance are stained glass windows, upstairs, a cafe.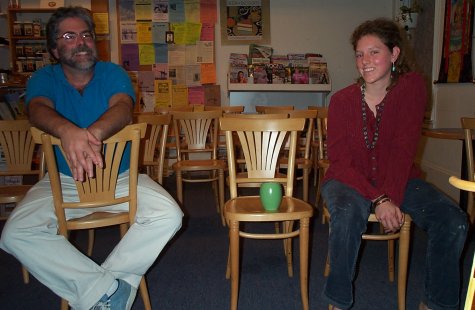 Jeff Knauth said he and Diana had advertised the event, but, in the flurry of the opening
week of campus activities, somehow it did not catch the attention of the community. So, I did my show
for him and for Liz, whose twentieth birthday was that day. She was on her way to see her
boyfriend, "a garlic farmer who lives in a wigwam he built himself in the forest," she told me.
I spent a comfortable night at Jeff and Diana's house, about twenty minutes out of town
in the woods, but I never did meet Diana, who was in bed with a cold that night.